A batch of young footballers has benefited from some much-needed capacity-building sessions, which are sure to improve their game play.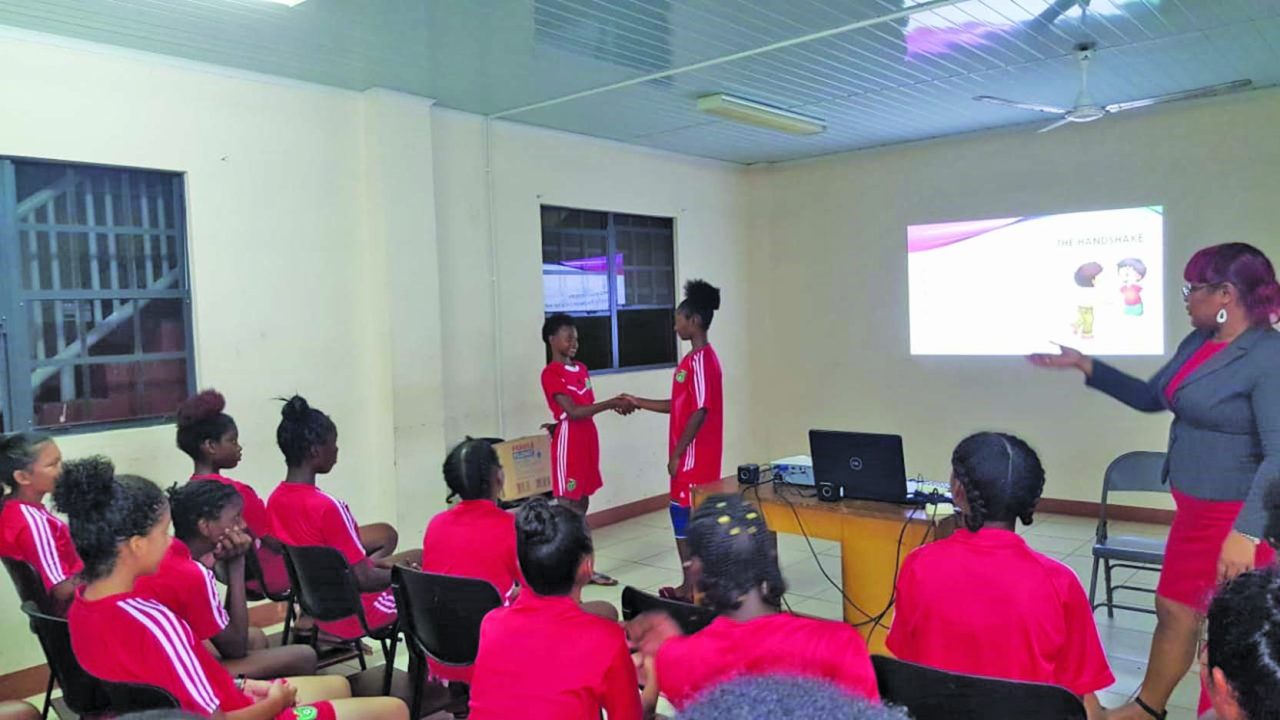 The participants of the sessions were the male and female youth teams, which recently wrapped up national encampment at the Leonora Track and Field facility. The interactive sessions, which were held over the course of July 11 and July 12, were facilitated by Guyana Football Federation (GFF) Head of Refereeing Department, Stanley Lancaster and Communications and Public Relations Officer (PRO) Debra Francis, and were focused on the laws of the game and interacting with the media.
According to Lancaster, the laws of the game discussion focused on explaining same in an age-appropriate manner to the group. Emphasis was placed on the laws applicable to the age group: "We explained Laws 4-12, which address a cross-section of issues, including player kit; ball in and out of play; determining the outcome of the match; the principle governing offside, fouls and misconduct; the importance of discipline on the pitch, and procedure for kicks from the penalty mark. The law relative to the functions of the goalkeeper was also explained."
Francis, in her interactive session, addressed areas relative to being a guest on a media interview: how to introduce oneself, the art of the handshake, dress, responding to questions, posture and concluding the interview. She underscored the importance of national players having the skill to effectively engage the media. "As national players, you will be required to engage the media in the form of an in-studio or field interview and it is the Federation's responsibility to ensure we equip you with the essential skills to effectively represent yourself, Club, Association, Federation and, by extension, the country. These skills are transferable and thus can be used for public speaking and/or interaction," Francis stressed.
The youngsters are currently in preparation for the Caribbean Football Union (CFU) Boys U-14 Challenge Trophy from August 2-12 in Curaçao and the CONCACAF Girls U-15 Championship from August 6-13 at the IMG Academy, Florida, USA respectively.
Guyana are one of five countries placed in Group C of the CFU Boys U-14 Challenge Trophy along with Curaçao, Bonaire, Trinidad and Tobago and Aruba while the U-15 Girls have been placed in Group E with The Bahamas, Cayman Islands and St Lucia.
Guyana are scheduled to play their first match in the U-15 Championship against St Lucia on August 6 at 11:00h, followed by Cayman Islands on August 7 at 09:00h and The Bahamas on August 9 at 11:00h. The play-offs will begin on August 10, following the group qualifiers, with the finals set for August 13 at 11:00h.
In the meantime, the participants are awaiting the shortlisting of the squads that will be encamped from July 22-26 and July 29-August 1.