Over 20 years ago, Jack Dangermond, the founder and president of Esri, envisioned people collaborating and sharing how GIS affects everyone. This led to the establishment of GIS Day, which was first observed in 1999. The explosion of geospatial technology since then has expanded that idea into a global event that shows how geography and the real-world applications of GIS are making a difference in business, government, and society. It's a chance for organisations to share their accomplishments and inspire others to discover and use GIS.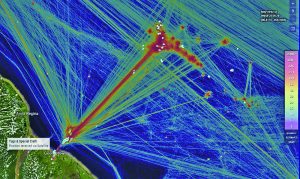 The EPA Guyana utilises GIS and Remote Sensing in its day-to-day activities to inform key decision-making processes. At the EPA, GIS is used for environmental screening, environmental effects monitoring, modeling, and mapping. Every application submitted for authorisation to the agency is screened spatially for potential impacts and to identify key environmental receptors that may potentially be affected. Compliance monitoring and effects monitoring are also done utilising GIS and Remote Sensing techniques.
One exciting way the EPA utilised GIS recently was in modeling the potential trajectory of a simulated oil spill, conducted by EEPGL on November 03, 2022. The GIS Department utilised the data given in a simulation situation, and predicted the potential impact on land and marine life. The model was created using the WebGNOME platform provided by National Oceanic and Atmospheric Administration (NOAA). This platform allowed for input of key parameters and real-time wind and ocean currents data. In addition to the trajectory of the simulated spill, the GIS Department also prepared maps of the environmental sensitivities in the potential impact area.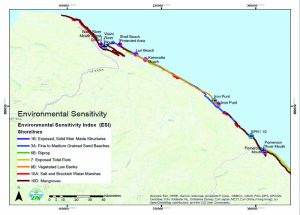 This November, EPA Guyana will join hundreds of organisations worldwide in hosting in-person and virtual gatherings that would celebrate the impactful work of GIS professionals, and serve to ignite the imagination of future innovators who will further advance global progress using GIS.
You can share your ideas and questions by sending letters to: "Our Earth, Our Environment", C/O Communications, Environmental Protection Agency, Ganges Street, Sophia, GEORGETOWN, or email us at: [email protected]. Follow us on Facebook and Instagram, and subscribe to our YouTube channel.