This past year has seen the Environmental Protection Agency boosting its efforts and capacity to increase its visibility in both the public and private domains through radio, television, print, social media, and other media publications and outlets.
This week, we are pleased to announce that we will be launching our first ever televised programme – "The Environment Matters". Recognising the need to provide the public with more up-to-date and relevant information, we saw this fitting. Equally, we believe that this will help to engender a Guyanese populace that is environmentally conscious and literate.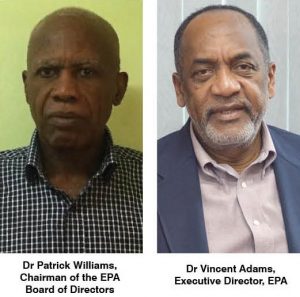 What you can expect
Don't think of this as just another TV programme that provides technical and not-so-interesting information to it viewers. The Environment Matters is a programme with a difference. This high quality, viewer centred programme will have something interesting for all who tune in. With pressing environmental issues climbing higher on the country's national agenda, viewers can expect relevant information relating to:
• Who we are – Inside the EPA;
• Our Authorisation Process;
• The Changing Climate;
• Managing the Country's Natural Resources;
• Fascinating ways to manage your waste;
• Air Quality –it's no joke, it can make you choke;
• Water Quality Management;
• Noise Management;
• Guyana's fascinating Biodiversity; and
• Preparing for the Oil and Gas Sector.
The Agency's work enables Guyana to contribute to national and global environmental protection and conservation. In developing this programme and planning its content, we were sure to include content for all ages and groups to enjoy. As you tune in, you will get the opportunity to be alongside us in our journey of protecting the beautiful ecosystems of Guyana.
Inaugural Show
Our first show will be aired on Sunday, December 16, and will provide viewers with information on 'Who we are': highlighting the key roles and responsibilities of the EPA; programmes and plans to align our work with the Green State Development Strategy (GSDS); and steps to address challenges as we forge ahead. We will feature two special guests, the newly appointed Executive Director of the Agency, Dr. Vincent Adams; and the Chairman of the Board of Directors, Dr. Patrick Williams. Both of these men possess a wealth of practical experience in areas of environmental protection and management.
Show time
Remember to join us on the National Communications Network (NCN) Channel 11 on the first Sunday of every month at 10:00 am, and for re-broadcasts on the second Tuesday at 8:05 pm; the third Saturday at 1:00pm, and the fourth Monday at 09:30 pm.