-as cyclists 'battle' in Grenville Felix Memorial race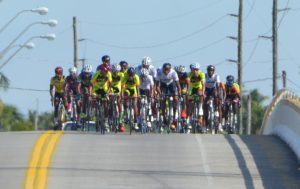 The sixth Grenville Felix Memorial cycle race, being held today, Sunday July 21, is anticipated to be an epic affair as cyclists contest for valuable prizes, cycling supremacy, and bragging rights.
The race will pedal off at 13:00h from Canfield, East Canje and head towards the Number 51 Police Station on the Corentyne Coast, before returning at the point of origin for the finish after covering 62 miles.
This event, organised by Flying Ace Cycling Coach Randolph Roberts under sponsorship of the Felix Family, is open to cyclists from all parts of Guyana. all the top wheelsmen will be on show, and lucrative prizes will be up for grabs.
Jamaul John, 2019 National Road Race Champion and the Grenville Felix Memorial defending champion, will be aiming to successfully defend his championship when the intense clash gets underway in Berbice.
In addition to John, Romello Crawford, Andre 'Padlock' Green, Balram Narine, Andrew Hicks, Curtis 'Chappy' Dey, Ajay Gopilall and Ralph Seenarine are among the stars who will be on show.
Lucrative prizes will be awarded to the first eight finishers, first three juveniles, first four 12-14 cyclists, first two females, and first three veterans. Additionally, eight sprint prizes will be up for grabs.
This event, one of the biggest cycling events in Berbice, is being hosted to honour the memory of the late Grenville Felix, who had been an engineer at the Rose Hall Estate before he passed away at the age of 96.
The Grenville Felix Memorial Trophy is a lien trophy which will be given to the first person who gets their name on it three times. Felix, a father of 10, was one of Guyana's first and oldest engineers at the time of his demise. He worked with the Bookers and Guyana Sugar Corporation and also in various parts of the world.
This is the eighth cycling event held to honour Felix. The first two were held in honour of his birthday, and the race was changed to a memorial event after he passed away.