…no intention of spying on Journalists, citizens
Questions raised by Guyana Press Association (GPA) President Nazima Raghubir, on the potential use of spy equipment on media professionals, were addressed by President Dr Irfaan Ali, who vociferously assured that his Government will never go the route of spying on the media or citizens as a whole.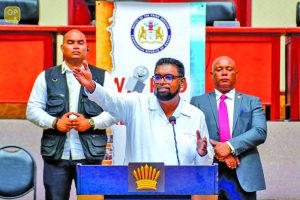 President Ali made these comments while delivering the keynote address to members of the media fraternity at the National Conference and Symposium hosted in observance of World Press Freedom Day at the Arthur Chung Conference Centre (ACCC), Liliendaal, Greater Georgetown.
The President made it clear that a Government spying on its people has no place in a democratic society and should be rooted out wherever it exists. Not only did he assure that the Government would never go this route, but he also made it clear that he is not afraid of criticism.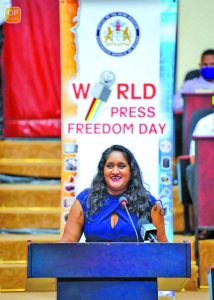 "This Government has no intention whatsoever; it has not even contemplated my mind to move in any direction to have any spyware. I have not even imagined something like that, it will never happen, at least under this Government," President Ali said.
"I am open from leadership to criticism… constructive criticism. My favourite part in any newspaper is the cartoonist. We have to celebrate them. Because in a single cartoon, they can send the most powerful message. And I love it, even when I'm the subject of it."
According to the President, his People's Progressive Party/Civic (PPP/C) Government is a firm believer in a free press and also being accessible to the media. He also responded to Raghubir's comments on the lack of post-Cabinet press briefings.
"The Cabinet press briefings. Yes, it must be done. Yes, commitments to have it done were made. But I would reposition this message, that this Government that I lead and this President that sits here, has been the most accessible Government and President to the media, any time in history. And that will continue that way."
"There has never been any time I am called upon, anywhere and not make myself available, not only to the media but to the people of this country because there is where I belong, there is where I feel comfortable, I would not run away from that," President Ali said.
When it comes to the Cybercrime Act which was signed into law by the former A Partnership for National Unity/Alliance For Change (APNU/AFC) Government (which was also mentioned by the GPA President, Ali noted the history of this law. He also recalled that it was the PPP/C, at the time in Opposition, who fought against it.
"If we want to address an issue, we have to call out all the actors on the issue. The Cybercrime Bill was passed in 2018. This Member of Parliament then, as well as the then Opposition, what did we do? We (PPP) spoke out about it, we objected to it, we placed amendments on the table, and the then Government disregarded all of those amendments and went ahead with the Bill," he said.
World Press Freedom Day 2022 is being observed under the theme "Journalism Under Digital Siege". In her address prior to the President, Raghubir had zeroed in on threats faced by the media in various parts of the world, such as spyware like Pegasus.
"World Press Freedom Day is being observed under the theme journalism under siege, which highlights not only media conversions but the threats facing the media, as we navigate this move to online. These threats expose the media to destructive intrusions from ransomware and spyware, which poses severe risks (to) the existence of media houses."
"In our statement, we called on media houses to safeguard ourselves and the Government to assure media houses and operatives that such tactics will not be used to threaten the work of the media," Raghubir said, also calling on the President to say whether the Government is in possession of any spyware.
The two-day conference was conceptualised by Minister within the Office of the Prime Minister with responsibility for Public Affairs, Kwame Mc Coy. Also in attendance of the opening were members of the Cabinet including; Finance Minister Dr Ashni Singh, Minister within the Housing and Water Ministry Susan Rodrigues, Agriculture Minister Zulfikar Mustapha, Public Service Minister Sonia Parag, Local Government and Regional Development Minister Nigel Dharamlall and Human Services and Social Security Minister, Dr Vindhya Persaud. Members of the diplomatic community also attended.