…Guyanese desire a Police Force they can trust – Granger
With just six years of service under his belt, Sergeant Gladwin Hanover was named the Guyana Police Force's 2019 Best Cop at its annual Christmas Awards Ceremony on Wednesday, where ranks received commendation and/or monetary rewards for their stellar performance during the past year.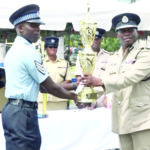 Sergeant Hanover is an instructor at the Richard Faikal College on the Essequibo Coast but recently stepped up to take over the training of recruits following the reshuffling of the senior ranks. He also heads the Zara Computer School at the Training College, where they have trained over 2700 civilians in foundation and advanced computer skills, as well as PC repairs and maintenance since 2013.
The 32-year-old sergeant was described as someone who has demonstrated "exceptional performance" and applied himself to general policing duties.
Hanover told reporters after the awards ceremony that he felt privileged to be given the award in recognition of his hard work.
Sergeant Hanover also works with a lot of young people in the region. In fact, in four months, he has formed seven youth groups across Region Two (Pomeroon-Supenaam) with some two hundred young persons.
Sergeant Hanover, who was also named Best Cop of his Division, received a trophy and $250,000. He was further rewarded with a trip for two to Kaieteur Falls, a weekend at the Arrowpoint Nature Resort and dinner for two at Duke Lodge – all compliments of the Roraima Group of Companies.
Meanwhile, the runner-up 2019 Best Cop was Assistant Superintendent E Baird, who is the Divisional Crime Chief in Region Six (East Berbice-Corentyne). He was also named the Best Cop in that Division.
The other Divisional Best Cops were: Sergeant Clive Clarke (A Division), Constable David (C Division), Lance Corporal Douglas (D Divisional), Lance Corporal Franklin (E Division), and Constable Gentle (F Division). In addition, Inspector Devon Lowe from the Criminal Investigations Department (CID) Headquarters was recognised for his work in the past year.
These officers were among some 2600 ranks who received a total of $21.3 million at Wednesday's award ceremony for their performance over the past year.
Additionally, for the first time since giving out these awards, two ranks from the Guyana Defence Force (GDF) received special recognition for cooperation with Police.
Awards were given to the Force's Best Male and Female Sports Personalities as well as the Best Sportswoman and Sportsman. Meanwhile, members from Community Police Groups and Rural Constables from across the country were also rewarded for their work done over the past year.
Deserving awardees
Police Commissioner Leslie James commended the "deserving" awardees for their commitment to carrying out the mandate of the Force, noting that these efforts should not go unrecognised.
"The performances of ranks over the past year, in a general way, were in keeping with the Force's mandate. [We are] giving due recognition to those ranks, who understood that sense of duty and performance creditability over the past year," he stated.
As the Force nears the completion of its three-year Strategic Plan, the Top Cop indicated that they were able to achieve the installation of Police Reform Board, which has oversight of the implementation of the Plan, in keeping with its objectives.
He went on to point out that the alignment of the Force's Regional Divisions has also taken shape during this past year.
"It is expected to see changes in the overall management of our resources, human and otherwise, for a strategic implementation to tackle crime and traffic lawlessness. The Force will continue with its forward thrust and we will continue to engage in social crime prevention approaches," Commissioner James posited.
Trust
He gave a similar commitment earlier on Wednesday before Commander-in-Chief of the Armed Forces, President David Granger, and other senior ranks of the Police Force at the Annual Commissioner of Police breakfast.
During an address, the Head of State pointed out that Guyanese desire a Force which they can trust and it is, therefore, incumbent on the country's premier law enforcement agency to ensure that they understand their roles and responsibilities and make every effort to fulfil these.
"This profession is based on public trust and without that trust, policing cannot succeed. I understand the importance of policing to this country and the people of this country. The people want a Police Force they can trust. The people want to cooperate with the Police. People want to look out their windows and see the Police patrolling. People want to approach the Police and get help. People want to live in a safe society. They want their girl children to go to school and come home late from lessons in safety. These are the things that all Guyanese want and I want you to be the type of Force that the Guyanese want you to be," he said.President Granger stated that it is for this reason that his Government has embarked, over the last four and a half years, on an ambitious programme to improve the security in this country. He noted that while some people had been hesitant with this plan, he is confident that the changes that have been taking place will make Guyana safer for citizens and investors alike, especially in light of the developing economic environment.