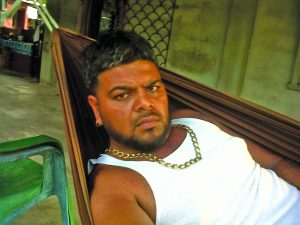 Two Essequibo Coast, Region Two (Pomeroon-Supenaam) teens were charged and appeared in Court for the robbery and shooting of an Onderneeming Village truck driver.
The teens – 19-year-old Mahindra Giranandan of Adventure Village, Essequibo Coast and a 17-year-old – stood before Magistrate Esther Sam at the Suddie Magistrates' Court where they both denied the charges.
It is alleged that on July 5, Giranandan and his 17-year-old accomplice pounced on Omadat Singh at about 07:45h as he returned home after transporting coconut. Reports are the man had just returned home and was standing outside his home when he heard a loud explosion.
He subsequently realised that he was shot in his leg. The men ran towards Singh and held him at gunpoint as they demanded the 120 pennyweight gold chain that he was wearing. Fearing for his life, he handed over the piece of jewellery that has an estimated worth of $1 million. The suspects then rushed out of the yard and fled the scene.
A report was filed and Police arrived shortly after, collecting three spent shells and a matching 9mm gun. The duo were arrested a short distance from the scene.