The lifeless body of excavator operator Sherwin Melville of Capoey Lake, Essequibo Coast, has been found in his home with his throat slit.
A relative of the 23-year-old father of one went to check on him on Monday at about 5:00h, and discovered the body in a pool of blood.
Based on reports received, Melville had had a "holiday drink" for close friends and relatives at his home on Sunday evening. Maria Fredericks, the dead man's mother-in-law, who was at the crime scene on Monday, told Guyana Times that during the get-together, Melville had left home to purchase cigarettes at a nearby shop, and had returned with a young man. When enquiries were made regarding the stranger, Melville had explained that he had invited this stranger to his house to take a "holiday drink".
Melville's wife had protested his bringing home strangers in light of the crimes that are occurring around the country. The argument had escalated, and the woman and her 2-month-old child had left the home, reportedly to spend the night at her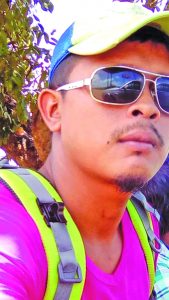 mother's place.
Thus on Monday morning a relative had gone to the young man's home, and it was then that his body was discovered lying face down in the house. She immediately raised an alarm and the Police were summoned. As investigators turned over the corpse, a gaping wound was observed at the man's throat.
The stranger with whom he was last seen imbibing has since disappeared.
Information reaching the relatives suggested that this "stranger" is originally from North West District (NWD) but works on a ship owned by a businessman in Wakenaam, Essequibo River.
Melville's mother-in-law tearfully related that the young man had always treated her with respect and had always taken care of her like his own mother. The woman said she is from Bartica in Region Seven, and her son-in-law used to make sure she is comfortable.
Melville used to work in the interior and would normally come out on major holidays to spend time with his family.
Another relative said Melville had been in the process of constructing his home, which had been a dream of his. With his death, the relative posited, all plans in this respect would have to be put on hold, since his wife is in no financial position to complete same.
The Police, meanwhile, are on the hunt for the young man whom Melville had taken home to have a "holiday drink". It is not certain whether anything is missing from the dead man's makeshift home.
His body is at the Suddie Funeral Home awaiting a post-mortem.