Testing for viruses such as Zika and Chikungunya, which is usually done abroad, is merely a fraction of the possible tests that Eureka Medical Laboratories Inc (EML) will soon be offering.
Andrew Boyle, the Chief Executive Officer of the medical facility at East Street, Georgetown, met recently with the President of Co-Diagnostics Inc, Dwight Egan, to finalise the setting up of a viral laboratory as an expansion of EML's services to the public. This is expected to be realised within the next few months.
Co-Diagnostics Inc is a Utah corporation headquartered in Sandy, Utah, United States.  It is a molecular diagnostics company that develops, manufactures, and markets new, state-of-the-art diagnostics technology.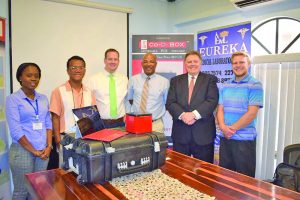 Using the power of computers to create unique mathematical models instead of relying on costly laboratory infrastructure, the company has created a revolutionary new DNA-based testing platform, resulting in tests that are faster, much more affordable, and flexible. It is also simple to use, accurate, and adaptable to both high-volume and portable, low-cost analytical devices.
To this end in recent weeks, Eureka Labs has collected samples for Zika testing for the initial testing using a method called PCR (Polymerase Chain Reaction)  developed by Karry Mullis in the 80s, for which he garnered  the 1993 Nobel Prize in Chemistry.
Asked about this initiative, Egan said his company was pleased to be partnering with EML to introduce this cutting-edge technology to the people of Guyana.
"We plan to make available a large menu of tests over the coming year that will enable the citizens of Guyana to have the same high quality of molecular tests enjoyed in the most developed countries in the world.
We are appreciative of the support we have received from the Eureka Lab, the Ministry of Health and other Government officials in introducing this needed technology to the people of this beautiful country," the Co-Diagnostics Inc President stated.
Meanwhile, the EML's CEO expressed optimism at the prospects in the medical field that such capability would bring.
"Today marks a significant day for Eureka; it's not only so because of us now being blessed with the capacity to do innovative Zika and TB PCR testing, but because of what is in store for our futuristic diagnostic capabilities.
What a way to commence the celebration of National Medical Laboratory Week 2017," Boyle exclaimed.
Through the aforementioned technology, laboratory test results can be made available more accurately and in unbelievably faster turnaround time. For instance, the machine being introduced can test 48 blood samples per hour for Zika.
Also included are testing for Chikungunya, TB, various STIs, HIV, Hepatitis B, Hepatitis C and many more. The   EML is the only International Standards Organisation (ISO) accredited medical laboratory in Guyana.