…debunks B debt default analysis, despite AG's findings
Finance Minister Winston Jordan said he was appalled by reports published by news outlets countrywide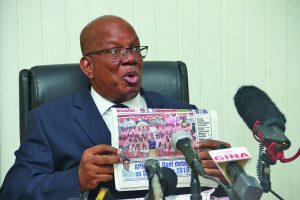 that Guyana had defaulted on $20 billion in debt last year.
He said the reports were completely erroneous; however, the Auditor General's Report for 2015 confirms that Government indeed defaulted on $20.292 billion in public debt.
During a news conference on Monday, the Minister also contended that the analysis, which was compiled by former Alliance For Change (AFC) economist Sasenarine Singh, has the potential to irreversibly damage the country's reputation.
"The damage that will be done to this country if it goes internationally. If we were rated by Moody's or any one of them, you know what would happen overnight with a headline like this? Overnight, what would have happened to a country like this?" he expressed.
Jordan maintained that Guyana has paid every creditor on time with the exception of five countries, owing to known difficulties.
"Guyana has not defaulted on anybody's debt. Guyana is up to date with every single creditor that we owe with the exception of those under the Paris Club Agreement for whom we have not been able to meet an agreement," he explained, noting that this was an existing problem.
The Paris Club is a group of officials from major creditor countries whose role is to find coordinated and
sustainable solutions to the payment difficulties experienced by debtor countries.
Jordan explained that these countries, despite attempts by past Governments, refuse to grant the 90 per cent debt write-off which is provided for under the Paris Club Agreement.
"We cannot accept less than 90 per cent write-off from any outstanding bilateral debt in any settlement. Some of these countries are not willing to give us. In case of one country, they are unwilling to give us even one per cent write-off," he said.
Singh had outlined that not paying one's debt as promised is a bad move since it translates to the future generation being saddled with these debts.
He also observed that these developments were reminiscent of the practices of the Forbes Burnham Administration.
"This is a dangerous development and it harks one back to what happened under the Burnham Administration when that government refused to pay the debt leading to the debt burden climbing to 98 cents of every dollar earned by 1990," the economist noted.