Charges were laid against a former Police Officer on Tuesday, as he stood trial for harbouring the masterminds responsible for the Camp Street Prison unrest, while the two high-profile criminals are still on the run.
Ex-Cop, 31-year-old Teon Allen, appeared before the Linden Magistrate's Court and pleaded not guilty to the charge of harbouring fugitive criminals Mark Royden Williams and Uree Varswyck – the duo who almost entirely destroyed the Camp Street Prison on July 9, in their plot to escape.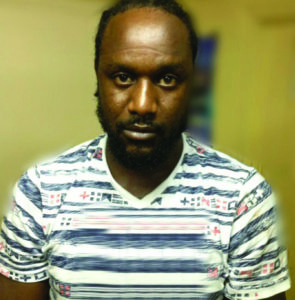 According to information reaching Guyana Times, Allen of Lobora Creek, Essequibo River, reportedly confessed to detectives of the Major Crimes Unit, stating that he provided meals and transportation to Guyana's most wanted men, following their prison break from the Camp Street penitentiary.
Allen was taken into custody just one week ago after Police received information that he was seen in the presence of the wanted criminals.
In fact, sources have confirmed that the ex-Cop is a known confederate of escapee Varswyck, dating back to their shared time as ranks of the Guyana Police Force.
Moreover, it was highlighted that earlier this year, Allen and two other men were charged with the illegal possession of an AK-47 and matching ammunition. Previous reports revealed that on January 22, he was found with an AK-47 assault weapon, 80 rounds of live ammunition and a 9mm pistol at John Street, Campbellville, Georgetown.
With that, the accused has been remanded to prison and is scheduled to re-appear in court on September 28, when the trial will continue.
Meanwhile, still on the run are three inmates who escaped the Camp Street inferno and an addition one who subsequently dug his way out from the Lusignan holding compound.
The wanted men are Mark Royden Williams, also known as "Smallie"; ex-Policeman Uree Varswyke; Cobena Stephens; and Pual Goriah respectively, all of whom were locked away for murder.
Durant is currently on death row for both the Lusignan and Bartica massacres, while Varswyck was fingered in the robbery/murder at Sterling Products Limited.
As such, the Guyana Police Force has issued a $10 million bounty reward for information that will lead to the re-capture of the four, who are now Guyana's Most Wanted men.