…intended to encourage local content – Jagdeo
– says Govt responsible for CHEC violating contract
Opposition Leader Bharrat Jagdeo has clarified that while the Cheddi Jagan International Airport (CJIA) expansion project contract did not initially cater for certain amenities; this was a deliberate strategy in order to create opportunities for local contractors.
At his press conference on Thursday, Jagdeo explained why the original CJIA contract did not contain provisions for commercial, office and cargo areas. According to the former President, the reason they took those things out is because they could have been done by locals.
"These were things being done by the Government, separate from the contract. We deliberately took those out. The idea was these could be done by local contractors. They shouldn't be part of the contract."
Jagdeo expounded that while things were not included in the contract, the Government should have implemented those that were. And according to Jagdeo, the Government ought to be held accountable for not doing its part to ensure that contractor, China Harbour Engineering Company (CHEC) delivered what it was contracted to deliver.
"Now we're getting criticised for what's not in the contract, rather than what was in the contract that this Government has changed, so we now have a rehabilitated terminal rather than a new terminal. And they reduced the size of the apron," Jagdoe said. "And we get criticised for what we didn't put in the contract, but they're not even achieving what we put in the contract."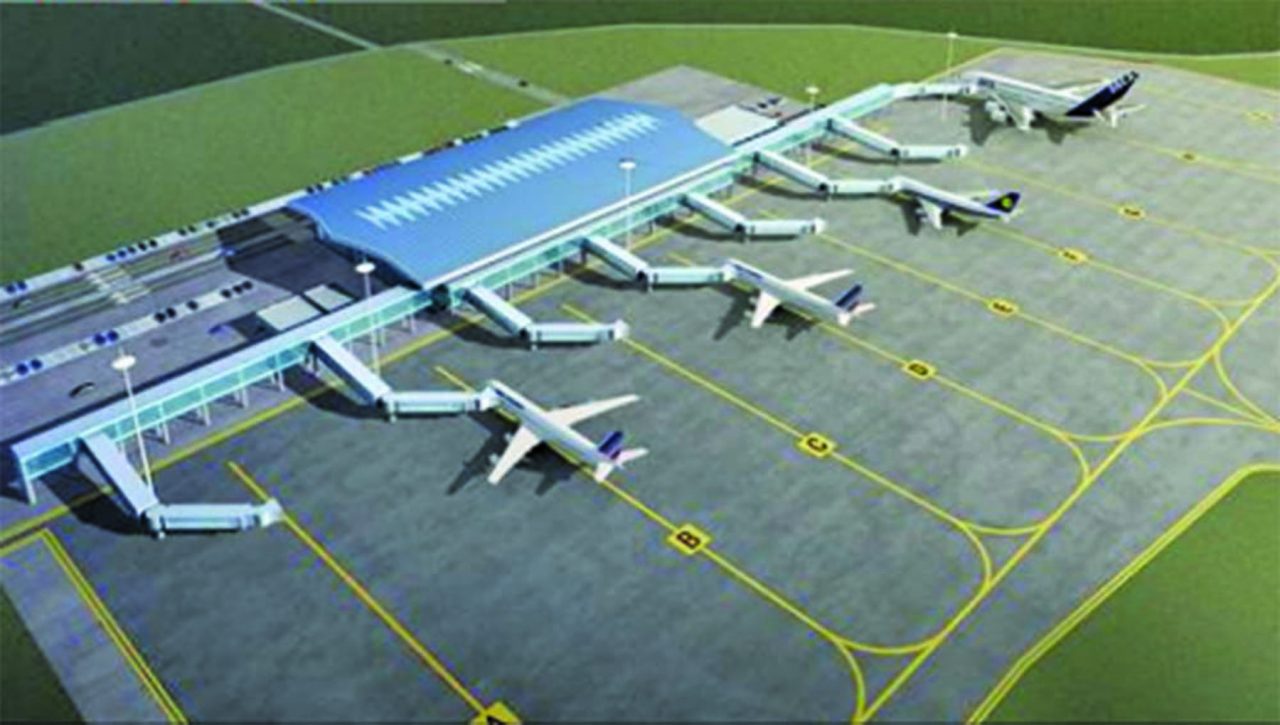 "An entirely new airport, pulling down the (terminal) building and building a new terminal and a huge apron for eight aircraft and eight air bridges… I can accept the criticism that maybe we didn't put in office space. But why aren't we holding this Government accountable for ensuring that the contractor delivers what we put in the contract."
With only two air bridges catered for under the coalition Government's modified agreement, they went to the National Assembly last year to request $346.5 million in supplementary funds towards the purchase and installation of two additional air bridges.
In 2019, taxpayers are likely to hand out even more funds as the project remains in an incomplete state. Former Minister within the Public Infrastructure Ministry, Annette Ferguson, had told the media in January that additional works are still to be carried out on the multibillion-Guyana dollar facility.
In mid-December 2018, Minister Ferguson had revealed that $65 million was approved to be spent on the Airport's upgrade of its technology which was geared to be able to track the weather, among other aspects.
She had also explained that the new technology will assist pilots in tracking the weather patterns to make better landing decisions as the airport was making the transition from manual to digital. This $65 million was in addition to the $346 million which had been sought earlier in 2018.
According to documents seen by Guyana Times, as of January this year, outstanding works to be completed include the South West runway extension pavement works and sections of the Departure Terminal; namely Immigration, Security Screening, and Duty-Free concessions areas.
Meanwhile, as of January, CHEC has been paid US$132 million. When payments to the consultant and local contractors are also factored in, that sum rises to US$142 million. Government's contract with CHEC expired in December of last year.
In 2012, under the People's Progressive Party/Civic (PPP/C) Administration, Guyana secured a US$138 million loan from the China Exim (Export-Import) Bank to fund the expansion and modernisation project, for which the Guyana Government was slated to inject some US$12 million.
Upon completion, the Airport is expected to have four air passenger boarding bridges for arrivals and departures; a 450-seat departure area, escalators and elevators in addition to an extended runway catering for larger categories of aircraft.