The Occupational Safety and Health Department of the Labour Ministry has launched an investigation into a serious workplace incident that occurred on Tuesday, when a worker came into contact with a high-voltage electrical wire while working on a Regent Street, Georgetown building, and suffered injuries.
The Ministry reported that the incident occurred at the Sachi Building, Lot 136 "E" Regent Street, Lacytown, Georgetown.
It has been revealed that a supervisor, Leon Turpin, was seriously injured while performing his duties. He was on an aluminum scaffold attempting to install a pressure plate on the glass frame at the front of the building when the pressure plate came into contact with a live electrical wire.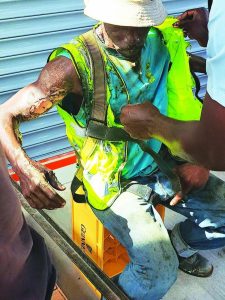 "Turpin suffered burns to his hands and other parts of his body, and was rushed to the Emergency Unit of the Georgetown Public Hospital Corporation (GPHC)," the Ministry stated on Wednesday.
Senior Occupational Safety and Health (OSH) Officer Johana Vaughn visited the scene and began an investigation after the incident occurred. Vaughn paid a brief visit to the injured man while he was being treated, and interviewed him about the near-fatal incident.
Labour Minister Joseph Hamilton has continued to express his concern about workplace injuries, and has emphasised the importance of good workplace safety and health practices. He said his Ministry, through its OSH Department, is aggressively addressing unsafe workplace conditions and unsafe work practices through inspections and audits, to reduce the number of accidents that occur in both the formal and informal economies.
"Minister Hamilton wishes Mr Turpin a speedy recovery, and confirms that a thorough investigation will be conducted to answer the many unanswered questions," the statement added.
Safety precautions
Shortly after that incident, Guyana Power and Light (GPL) explained that the man had come into contact with the network, which resulted in a shutdown of power in "sections of Georgetown, the entire West Bank and West Coast Demerara."
"Once again, GPL implores contractors to observe the necessary safety precautions to avoid injury and unnecessary service disruptions. Our teams have commenced restoration to affected areas," the GPL had said in a release.
This is not the first time an incident of this nature has occurred. Late last year, 27-year-old Shaqueen Butts of Airy Hall, Mahaicony, and 25-year-old Gousham Narine of Triple X Non-Pareil, ECD were killed after they came into contact with a live electric wire at Trans Rice Mill, located at Branch Road, Mahaicony, East Coast Demerara.
At the time of that incident, Butts, who was still on the scaffold, held on to Narine and was also electrocuted. Both these men then fell off the scaffold, and were picked up and rushed to the Mahaicony Public Hospital, where they were pronounced dead. (G12)