…Energy Dept defends secrecy
…claims "commercial sensitivities" of companies must be respected
The Energy Department has released the names of the traders it invited to vie for Guyana's oil, though details of the negotiations are likely to be limited until they are concluded as the Department said the "commercial sensitivities" of the companies must be respected.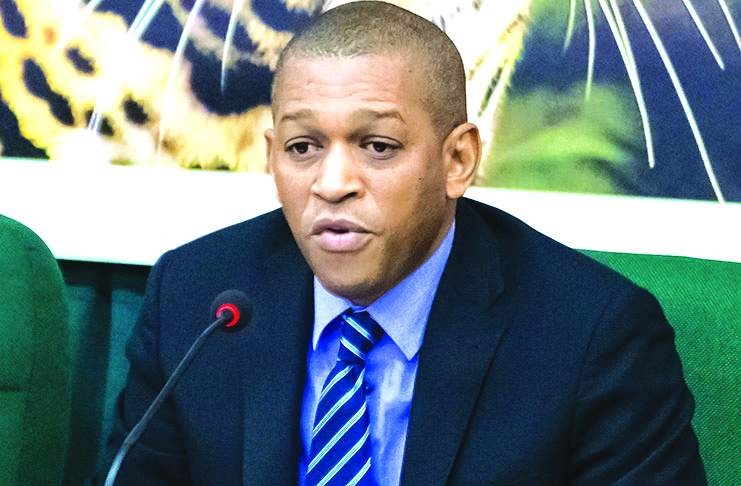 This was explained by Energy Department Director, Dr Mark Bynoe and newly contracted Crude Marketing Specialist, Virginia Markouizos. The pair were asked why the Guyanese public only became aware of plans to sell Guyana's crude using the on the spot method, through a report in a foreign publication.
According to Bynoe, there are times they can discuss things related to Guyana's natural resource with the media and "times that they can't."
"The companies were invited… the companies that were selected included the operator and co-ventures. So you had Exxon, CNOOC, Hess, BP (British Petroleum), Chevron, Shell, Total, E&I. So these are internationally reputable IOC (International Oil Companies)," Bynoe said.
Bynoe went on to say that preferably, Guyana would not have known what was happening until discussions were wrapped up. According to him, negotiating these matters in the public eye could negatively affect the process.
"The decision was made after multiple rounds of consultation internally. As I said before, there are some things we will speak to at the beginning, some things we can speak to you during, some things we can speak about post and some things we won't be able to speak about at all."
"Guyana doesn't operate within a vacuum. Guyana is operating in a system where it has to deal with international commercial transactions as well. What we were aiming to do was come to you when the matter was concluded, not before. Because what that can do is weaken the Government's negotiating position."
Adding to Dr Bynoe's point, Markouizos explained that while it is good to have transparency, the traders and their commercial sensitivities have to be respected during negotiations. However, she claimed that much of the oil market already self-regulates itself.
"Not only we work on transparency, but the market itself welcomes transparency. Because this is all building to a good reputation of Guyana crude. But at the same time, there's a realisation that we must respect commercial sensitivities and at the same time, we have to respect public sensitivities."
Justification
Bynoe also justified Guyana selling the oil to the operators rather than the open market, noting that the benchmark set now was important for pricing reasons. According to Bynoe, the decision was made based on advice from specialists like Markouizos, commercial expert Juan Lopez-Raggi and oil and gas legal expert Peter Stewart.
"Value equals money. First impressions count. If you have a bad first impression, that's how you benchmark. Do you want to take crude to the market that has not yet been stabilised, which will affect the price Guyana gets for its crude? That then becomes the mark we'll be marked against for future cargo."
Bynoe, therefore, noted that it was important for both them and the operator, noting that they will also do likewise by taking it through the refining system before introducing it to the market. When asked if other options were considered, Markouizos had this to say.
"We had a range of different options we analysed for the introductory phase, but it was clear from the beginning that this is the preliminary stage. There was a realisation and clarity on the fact that first, we have to introduce and test the grade before moving on. So different options were examined and we had all the pros and cons laid out, before selecting [this] one," Markouizos noted.
It must be noted that if the list supplied is exhaustive it would appear that Bynoe has excluded the independent crude oil traders that are much more competitive and larger than the oil producers in the trading field.
Several of those very traders who will be negotiating with the Government to sell Guyana's crude lifts are already players in the lucrative 6.6 million acres Stabroek Block. ExxonMobil's affiliate, Esso Exploration and Production Guyana Limited (EEPGL) is the operator in the Block and holds 45 per cent interest in the Stabroek Block.
Hess Guyana Exploration Ltd, meanwhile, holds a 30 per cent interest and CNOOC Petroleum Guyana Limited, a wholly-owned subsidiary of CNOOC Limited, holds 25 per cent interest in the Block.
At one point, Shell was also one of Exxon's partners. However, it pulled out of the Stabroek Block prior to 2015. Meanwhile, French oil company Total has shares in both the Orinduik and Kanuku Blocks.