…says well-testing done, reservoir-management geo-scientists on payroll
Oil giant ExxonMobil is taking steps to ensure that it can maintain the production plateau, the phase in which oil production peaks, of the Liza Phase 1 and 2 projects in the Stabroek block for as long as possible.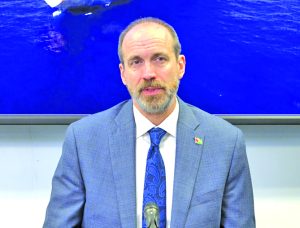 During a recent press conference with the media, Exxon subsidiary Esso Exploration and Production Guyana Limited (EEPGL) Production Manager Mike Ryan provided an update on Exxon's operations in the Stabroek block. Combined, the Liza Phase 1 and 2 projects are producing over 200,000 barrels of oil per day. Asked how long Exxon can maintain its production plateau, Ryan explained that they are doing everything possible to ensure its longevity.
"The production plateau is measured in years. As the reservoir performs, you think about Liza Phase 1 and 2, it's a similar reservoir, we continue to gather information and learn from the reservoir, and how it performs will inform us on how long we stay at these capacity rates.
"Reservoirs are not designed to operate at plateau forever; It is measured in years. As you operate, you learn more about the reservoir, and you learn how to get the most out of the reservoir through gas injection and water and just prudent management," Ryan said.
According to Ryan, they have a number of reservoir management geo-scientists on their payroll. He explained that they do well-testing and monitoring in an effort to ensure the maximum benefits from the resource in a responsible way.
It was only on Tuesday that Exxon announced new oil finds in the Stabroek block, bringing its total discoveries in the block to 33, and its finds for this year to seven. Oil was found at the Seabob-1 and the Kiru-Kiru-1 wells.
In a statement on Tuesday, EEPGL announced the discoveries of oil at its Seabob and Kiru-Kiru wells. The Seabob-1 well, drilled by the Stena Carron ship at a depth of 4,660 feet, encountered 131 feet of oil.
On the other hand, the Kiru-Kiru-1 well, drilled by the Stena DrillMAX at a depth of 5,760 feet, encountered 98 feet of oil. Drilling operations meanwhile continue at this well. With these discoveries, Exxon has now made a total of 38 discoveries overall in Guyana's waters.
In April of this year, Exxon had announced three oil finds in the Stabroek Block. The three discoveries are southeast of the Liza and Payara developments, and at the time had brought the tally of discoveries made by ExxonMobil in Guyana in 2022 to five. The Lukanani well was spud and completed by the Noble Tom Madden, while Barreleye was drilled by the Stena DrillMAX, and Patwa by Noble Don Taylor.
ExxonMobil, in its statement announcing those three new discoveries offshore Guyana, had said that the finds would increase its estimate of the recoverable resource for the Stabroek Block to nearly 11 billion oil-equivalent barrels.
The oil-rich Stabroek Block is 6.6 million acres (26,800 square kilometres). Exxon, through subsidiary EEPGL, is the operator, and holds 45 per cent interest in the Block. Hess Guyana Exploration Ltd holds 30 per cent interest, and CNOOC Petroleum Guyana Limited, a wholly-owned subsidiary of CNOOC Limited, holds the remaining 25 per cent interest.
So far, Exxon's total investments in Guyana amount to Gy$1.3 trillion on its own, and over Gy$3 trillion with its partners.
Additionally, the joint-venture exploration and production plans up to 2025 would likely increase their investments to more than GY$6 trillion.
ExxonMobil has said it anticipates at least six projects offshore Guyana will be online by 2027, with developmental drilling having been recently started on the second one, the Liza Phase 2 project. Production has already started in the second phase, with the Liza Utility floating, production, storage and offloading (FPSO) vessel in operation.
The third project –the Payara Development – will meanwhile target an estimated resource base of about 600 million oil-equivalent barrels, and was at one point considered to be the largest single planned investment in the history of Guyana.
Meanwhile, the Yellowtail development, which will be oil giant ExxonMobil's fourth development in Guyana's waters, will turn out to be the single largest development so far in terms of barrels per day of oil, with a mammoth 250,000 bpd targeted.