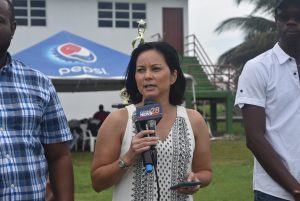 Several Under 14 football teams suited up on Saturday morning and took a lap around the Ministry of Education Ground, Carifesta Avenue, which signaled the beginning of the second annual ExxonMobil Boys' and Girls' tournament.
Although their round robin matches will begin until next Saturday, June 22, the female teams joined their male counterparts at the opening ceremony for the march pass.
To make the occasion more interesting a prize was offered for the most uniformed team. The trophy which was provided by the primary sponsor ExxonMobil, was awarded the St. John's College Boys, who showcased discipline even in the boiling sun.
Prior to this, Petra Co Director Troy Mendonca shared the vision of the tournament, which results in producing all rounded students.
"We are very happy to be here and not just we as in Petra but the players, sponsors, and officials. We're happy to be here because we all share the same vision, which is to provide the opportunity for these youngsters to play football, in the process of them interacting, meeting new friends and it is all helping to build our future leaders," Mendonca stated.
Community Relations Manager of ExxonMobil Suzie De Abreau took her opportunity with the mic to wish the players a good 7 week tournament and emphasize ExxonMobil's commitment to sport in Guyana.
"At ExxonMobil Guyana, we're committed to the development of youth trough sport. We view these activities as great opportunities to foster teamwork and build good skill in the kinds participating. We commend Petra for their hard work in getting the tournament off the ground and wish all participants the best of luck," De Abreu said.
The 24 boys' and 12 girls' teams are also being encouraged to join the fight against chronic diseases. This mandate was pushed by Ministry of Public Health's representative Glendon Fogenay. Here's what he had to say:
"Football is a healthy way to spend time, infect physical activity leads to better health not only for the body but also mental health. Involvement with sports also helps with your accountability," Fogenay explained.
The first game of the day and the 2019 tournament saw North Ruimveldt Multilateral Secondary holding St. John Boscoe home to a 1-1 draw.
The male and female winners of the tournament will have the opportunity to choose a school project that they would like to see completed as the first prize.