The Feroze Afzal Barakat (FAB) Mining Company has been throwing its support behind sports in general on the West Coast of Demerara (WCD). With the rains now approaching, the company is eagerly awaiting the dry season to continue the venture of bringing sports to everyone on the WCD.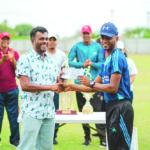 It' started with the owner of the company's Feroze Barakat and his brother Ishhack Barakat sponsoring cricket privately when there was no cricket playing on the West Demerara. Then Feroze opened his transportation company ODYSSEY transport service and FAB Mining company. The company started to organize cricket more professionally, to date for the last 10 years' cricket was better organized by the company on the WCD. It should be noted that twice the company was in talks with cricket board on the West side to give them sponsorship. However, the cricket board didn't accept the plans and most recently in November 2018 they were not interested.
Speaking with Guyana Times Sport, Manager/ Company Secretary of FAB Mining, Troy Khan, said, "We looking forward to do some school cricket, and hope that those who are administering West Demerara get more serious so we can able to reignite the glory of West Demerara cricket and not just a few teams as it's seems now."
Asked what the company has achieved through these sporting ventures, Khan responded, "Well, we are not looking for achievement; but we want to believe, after being so long among cricket in this region, it's important for us to recognise the persons who have made contribution towards the game, so the youths can build on (it).
Khan also noted that it was only recently that FAB Mining Company started with a few neighboring villages at the club, Meten-Meer-Zorg West. After that, the company was approached by almost all the teams in the West Demerara to join them, mainly because cricket was not being played in that area.
Khan related that the company has come a far way, and is currently working towards bigger and better things in the future.