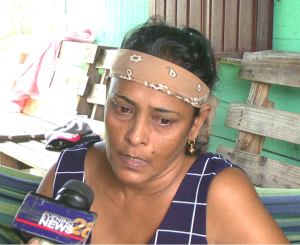 By Davina Ramdass
The family of 32-year-old Oliver Anthon, a father of five who was electrocuted on Tuesday while installing metal poles at the Guyana National Stadium, foresees difficult times ahead as he was the sole breadwinner.
Also dying in the tragic accident was 17-year-old Krishna Chand of Lusignan, East Coast Demerara.
Anthon's mother-in-law, Denise Adams, said she is not sure how the children will be taken care of as Anthon was the sole breadwinner in the family. With a teary eye, she told Guyana Times that this will be the first year his children will be spending Father's Day without him.
The woman noted that the family members are now forced to make alternative plans to sustain themselves. Her daughter, she noted, recently completed a beautician course and will now have to seek employment to maintain her five children.
However, Adams recalled the moment they received the dreaded news and broke it to the children.
"When the news came to them when their mother come back and say y'all father, we not getting him back anymore, they all was crying, they faint and we just trying to get them to calm down."
The woman added that the company has not yet reached out to the family although they are looking forward to some sort of compensation, owing to the fact that they are not financially stable at this time.
"Anthon's mother died when he was young and he don't have no father neither and from de time me know she and he so much years now since they married is just the two of them. Family don't really come around so," the mother-in-law cried.
Nevertheless, she noted that Anthon was a jolly person for the time she knew him and was always nice to be around.
She recalled when he left for work on Tuesday, he called his wife complaining of feeling unwell and a few hours later they received the call, informing them that he was electrocuted and had died.
Meanwhile, over in Lusignan, ECD, family members of Krishna Chand, also known as "Sanjay", were preparing for the wake.
His inconsolable mother, Gaitree Persaud, explained that she was about to run an errand when she received the news of her son's demise.
"I went and buy three jeans for my other son and the jeans was tight and I was getting ready to go and exchange it Tuesday. After I finish bathing I went upstairs and the phone was ringing…my son called, the other one and he said mommy why you don't answer the phone…and he say Sanjay get in accident. Me say bad? He deh hospital? He say no mommy, he dead".
As tears trickled down her face, Persaud explained that her other son works with the same company but was not at the site at the time of the horrific incident.
The now dead teen had worked with the company for about eight months, but relatives were not sure whether or not management offered any assistance.
She recalled that her son was very loving. He leaves to mourn his two siblings. The mother cried, "He was a very good child. He was very friendly to people. Everybody liked him for the fun that he makes".
It was reported that on the day in question, Chand and Anthon were part of two separate teams that were contracted by the Public Security Ministry to erect poles to facilitate CCTV cameras.
However, at about 13:20h while erecting one of the poles, tragedy struck. Guyana Times reported that Chand had the wire to do the job wrapped around his neck, while Anthon and another worker were holding the metal pole which was attached to a lift on the canter.
The top of the pole reportedly came into contact with the high voltage GPL wire, causing Krishna and Anthon to be electrocuted. Altaf Amroa, 24, of Lot 96 West Half, Lusignan, ECD, who is also a technician of Smart Teck Solutions, and Brian Culley, 53, a porter of Lot 9 Vigilance, ECD, also received injuries but were treated at the Georgetown Public Hospital.