…as millions in loans, grants approved for sector in 2016
While the Small Business Bureau has done significant work in helping small business owners and aspiring entrepreneurs transform and develop their operations, they have experienced difficulties in reaching out to those in outlying regions.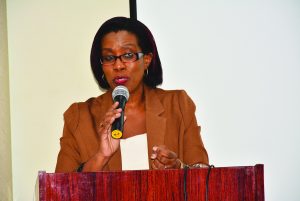 Many small businesses in Guyana continue to benefit tremendously from the support and services provided by the SBB, which facilitated the approval of 56 loans valued at some US$1 million this year.
This reflects a major increase from those loans granted in the previous years which stood at 24 and 12 in 2015 and 2014, respectively.
These loans are provided by the SBB's partners, Republic Bank Limited and the Guyana Bank for Trade and Industry (GBTI) at significantly low interest rates with the maximum being 6 per cent.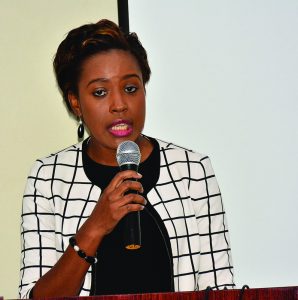 Credit Guarantee Fund Manager of SBB, Gillian Edwards, explained that many loans were centred in Region Four (Demerara-Mahaica), noting that access to financial lending institutions is a huge problem for those operating in other areas across the country.
However, in those regions where active financial institutions are not available, the SBB directs its grant programme there.
"If you can't access a financial institution, the opportunity is opened in terms of the grant component," Edwards explained during the SBB's yearend press conference at Island Café on Brickdam, Georgetown.
Under the grant scheme, 72 grants were distributed for 2016. Grants given in previous years are 136 in 2015 and 25 in 2014, making the overall value of total grants approved at US$333,232 (G$68.8 million).
Edwards explained that based on demand received during 2015 for grants, consideration was given to expand the programme to accommodate 500 approvals instead of the initial 300.
However, she lamented that owing to lack of capacity, the SBB will be unable to approve grants for 500 businesses as the programme comes to an end in December 2017.
"Based on the time remaining for this extension, a minimum of 160 is expected," she stated, noting that the SBB is constrained in reaching out to those remote areas.
She explained that approvals are based on the submission of business plans which are reviewed, initially evaluated based on site visits and submissions and sanctioned thereafter by the Grant Committee.
Further, the SBB provides training for business owners in varying areas. Approximately 2500 persons have been trained to date at a total cost of G$179 million.
Training services commenced in 2013 with three providers and 9 additional trainers were signed in July 2016, bringing the total partner training institutions to 12. The demand for this service has increased over the years, with 1353 persons undergoing training in 2016 while only 141 were trained in 2013, 828 in 2014 and 187 in 2015.
Edwards highlighted that the work of SBB has impacted the lives of over 735 persons.
"A total of 440 jobs and 295 jobs have been sustained and/or created by the credit guarantee and grant interventions respectively to date," she stated.
The SBB is considered a one-stop shop by many young business owners or aspiring entrepreneurs who are uncertain of the procedures in expanding and/or developing their business.
Some additional support services offered by the Bureau are assistance with documents required for loan financing, referrals to other agencies, support for launch of products and festivals, market exposure, among others.
The SBB was created with the aim of providing incentive regimes and support programmes for small businesses.
2017 plans
Chairperson of SBB, Valrie Grant, underscored the importance of entrepreneurship in Guyana: "Entrepreneurship is one of the most important drivers of job creation and economic growth, and is crucial for the development of a vibrant formal small- and medium-sized (SME) business sector. It enhances productivity growth and can also help find practical business solutions to social and environmental challenges."
Grant noted that many entrepreneurs in Guyana can be classified as "necessity entrepreneurs", where they are pushed into entrepreneurship because they have no other alternatives for work.
This situation she highlighted is reflective of the scarcity of decent wage-labour opportunities in the economy.
The SBB chairperson lamented however that despite the importance of entrepreneurship, there does not exist a national entrepreneurship strategy or any direct policy to support entrepreneurship.
In this regard, she announced that the Bureau will aim to optimise the regulation environment for entrepreneurs, enhance entrepreneurship education and skills development, facilitate technology exchange and innovation, improve access to finance, and promote awareness and networking.
Other plans for 2017 include the implementation of youth friendly programme, capacity building and enhanced staff complement, greater public awareness, celebrating the success of entrepreneurs through a small business awards, hosting an entrepreneurship summit, etc.
The SBB is also hoping to partner with more banks next year, and has already commenced the process of re-engaging with IPED and Scotia Bank.