By Raywattie Deonarine
Fathers, like mothers, are pillars in the development of a child's emotional well-being. Children look to their fathers to lay down the rules and enforce them. They also look to their fathers to provide a feeling of security, both physically and emotionally.
Raising children is not easy, even for the most seasoned parents. Being a single father can be particularly daunting as your children navigate all the social situations, complex feelings, and develop. The process of development can change children's experiences throughout their youth, without a firsthand understanding of some of what they are going through. They need to navigate all of those changes and parents are most times shut out of that phase or can easily trigger their growing child into being reclusive.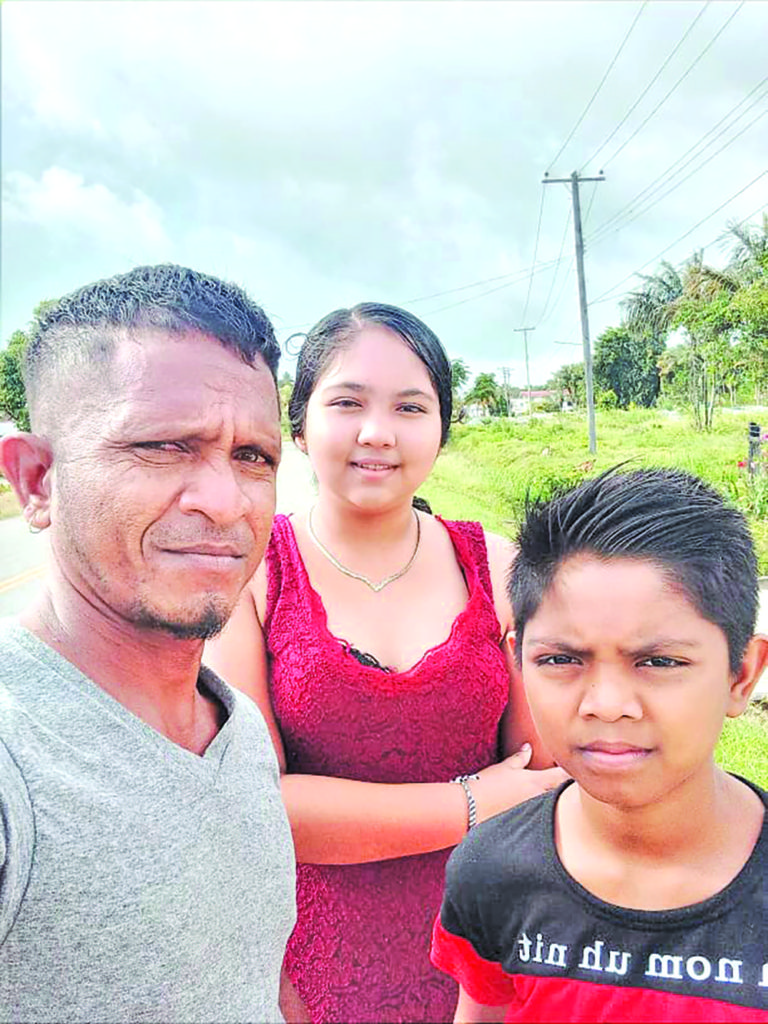 Whatever the circumstances of a family situation, the challenges in raising several children as a single parent are similar. There will be obstacles along the way, and they won't always know the right answer, but that's true of every parent.
Men have a much harder time processing emotion because of the fact that society tells them not to feel much so when they are left as the only parent, it is a struggle. Men are now forced to relearn a lot of things so that they can be both tender and stern with their children.
One such man is 40-year-old Mohendra Seeram, a father of two. Seeram lives at Pomona on the Essequibo Coast and is a very gentle and hard-working father to his children – Ashley and Krish. He is one of the most laidback and down to earth fathers and has been raising his children and managing the household without the help of a spouse.
Seeram is a carpenter who works at various places in Guyana to build houses, renovate existing structures, install tiles and many more areas pertaining to carpentry. He is described as "a loving, caring, motivating, one-of-a-kind, good-hearted, hardworking, understanding father". He always tries to make people around him happy, especially his two children.
When asked about what being a father means to him, he said "Fatherhood means being a superhero for my daughter and the strength for my son. I believe that God gives my children the greatest example of father love. My love for them is sacrificial, patient, kind, humble, honest, forgiving, faithful, and selfless…those are the things I not only want my life to be about but want to make certain my kids know and feel what it is like for me."
He added "Well my daughter depends on me for security and emotional support. I always show my daughter what a good relationship with a father looks like, which is gentle and loving. Not only my daughter but also my son. He will learn from me what a good and humble dad is because I fought for my kids till the last. I have been raising them without a mother for three years and still manage to give them the full support. I give my children the feeling of a mother's love although their mother is not here with them."
The father said that he has learnt, throughout the years, that a father must uphold, encourage, motivate, maintain and protect their children. He has been working hard to exhibit those traits and will continue to ensure that his children feel secure with him and that they know they are cared for.
"I worked along with my daughter towards the achievement of her National Grade Six Examination and as I never regret spending more time behind her because she did excellent at the end. It's not her alone because after that I also worked along with my son and he did excellently too," Seeram pointed out
Seeram advised single dads to fight daily for their children's betterment and that they should stay strong. He stated that fathers should use resources that will encourage and inspire them to be a hero to their kids.