What is known in today's world as Tassa drumming is widespread in India, but got its origins in Trinidad and Tobago. A uniquely Indo-Trinidadian form, Tassa drumming invites exploration of how the distinctive nature of the Indian Diaspora and its relationship to its ancestral homeland influenced Indo-Caribbean music culture. It represents survivals, departures, or innovative elaborations of transplanted music forms.
In Guyana, Tassa drumming is primarily associated with Indian weddings and political rallies and is mostly enjoyed by the older folks.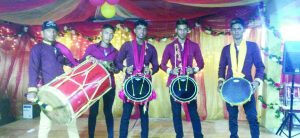 Over the years, Tassa drumming has evolved from the traditional tempo to a more contemporary style of drumming. Guyana has several of these groups, particularly in rural areas, with just a few in urban areas. To be a member of one of these groups, one has to be committed, dedicated and at the same time, versatile in their presentation.
One such group that portrays the aforementioned characteristics is the "Feel The Beat" Tassa Group out of Stewartville Housing Scheme, on the West Coast of Demerara.
The group comprises five members, namely Ravin Baleshar, Hamesh Baleshar, Daniel Deonarine, Adrain John and Arvinda Roopram. It was formed five years ago and has been creating quite a buzz on the West Coast of Demerara. The members started to play the drums at their respective Mandirs after developing a liking for the rhythm, and decided to form the Tassa group, which presents a totally different form of drumming as opposed to what is normally played in places of worship. It took them quite some time to be ready to participate in outdoor events – this meant practicing for more than five hours on a daily basis. As the group realised their potential to master the art form, they spread their wings and are now dubbed one of the best young groups in Region Three (Essequibo Islands-West Demerara). The group has performed at weddings, Mandirs, cultural shows and national events at the Guyana National Stadium, and well as programmes organised by the Guyana Hindu Dharmic Sabah and the recently organsied Phagwah Mela by Inspired Inc.
Its members feel a sense of pride as they keep their Indian culture alive by playing the drums.
The group's aspiration one day is to become one of the best in Guyana. The group has already been making inroads in achieving this goal. The "Feel The Beat" Tassa Group participated in the last Tassa drumming competition that was held at the Buddy's Night Club where they were adjudged the second best.
In addition, the group is optimistic in offering classes to the younger generation in the near future while at the same time, taking their individual potential to another level. The members of the group are ready to travel out of their comfort zone to make new friends and meet new people in various villages.