In observance of Guyana's 52nd Republic Anniversary, Food for The Poor Guyana (FFTP) handed over the keys to several homes to families in Region Two (Pomeroon-Supenaam).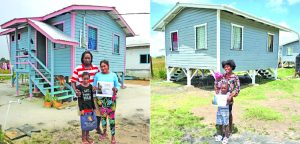 The houses were constructed in Onderneeming, Huis't Dieren, Queenstown, Capoey, Jibb, and Perseverance in Region Two.
The 20 feet by 16 feet wooden structures are outfitted with two bedrooms each, indoor sanitary facilities, and rain harvesting components.
Each home is semi-furnished with two beds, a tabletop gas stove, and a small dining table with four chairs. Families who did not have any access to electricity from the Guyana Power and Light (GPL) received solar panel kits to power bulbs.
At a simple handing over ceremony, Senior Project Manager of the Non-Governmental Organisation (NGO), Andrea Benjamin related that the organisation continues to assist families who are in need.
She noted that the beneficiaries were living in dilapidated buildings, in other persons' homes, and also renting houses.
The main objective of the organisation, she noted, is to make families happier and more comfortable while adding that FFTP has erected several homes for families throughout the regions.
One of the beneficiaries, Shervin Amsterdam of Essequibo was elated to have his own home. He expressed gratitude to FFTP Guyana Inc.
"I am very thankful to Food For The Poor for fulfilling my dream of having my own home… I am a father of four and it is very hard for me to maintain my family and fulfil their desire of having a new home. I am seasonally employed and was renting a house for my family to be comfortable. I am grateful for their support," Amsterdam related.
Other beneficiaries echoed similar sentiments, praising FFTP Guyana Inc for its timely intervention.