The President of FIFA, Gianni Infantino concluded his visit to Guyana by hosting a conference at the Pegasus Hotel, Kingston, where he commended the efforts of President of Guyana Football Federation (GFF), Wayne Forde and his team for their efforts to develop the sport.
The two football heads fielded questions from the media, while Infantino assessed what he had seen.
"I notice that this country has a lot of passion for football and I know that cricket is popular here, but you know it is just a question of time until football is clearly the number one sport," the Swiss national said.
It is because of this that he noted that FIFA is now seriously investing more into football in Guyana, not only financially but to be here and witness first-hand the kick-off of the developmental project which he termed "a concrete step".
Infantino, who was elected to office in 2016, indicated that Guyana, like the rest of the Region, has natural footballing talent, and it was only a matter of putting the right environment in place to see some solid results.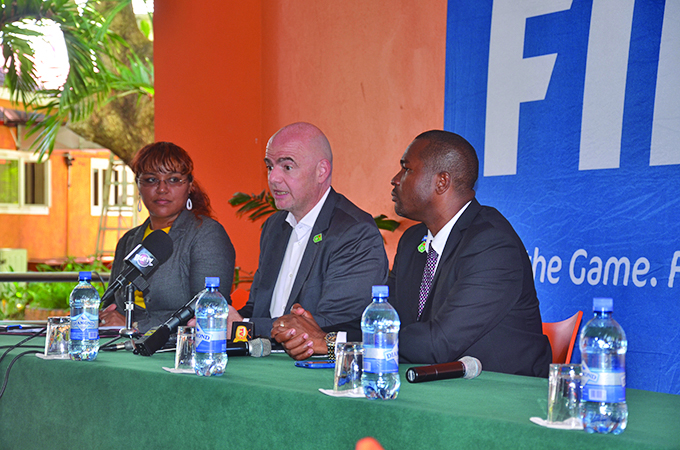 Forde indicated that over the past 17 months, their focus has been on football, pointing out that we now have a "robust youth development programme that is only going to get better with time".
The GFF Head went on to caution those paying attention to the programme's growth that it would not happen overnight, as it was "a long arduous and painstaking process in developing football and excellent footballers". However, he praised FIFA and the President of the body, who were noticing the work the GFF was doing and setting out bold initiatives in funding and projects.
Forde used the opportunity to reassure the FIFA boss and the football family that the executive committee of the GFF has the responsibility to better the image of football, noting that they were committed and working diligently every day.
By virtue of this, the man at the helm of local football administration added that the level of accountability and transparency they were building not only at the federation level, but also the demands and conditions they would be setting out for the associations as well, were consistent with what was required to reform football.
FIFA President Infantino later departed Guyana for Suriname.