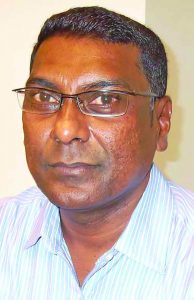 By Devina Samaroo
Obesity is the main risk factor for Non-Communicable Diseases (NCDs) in Guyana, particularly cardiovascular problems and diabetes, which is the third leading cause of deaths locally.
Around the world, the obesity epidemic continues to expand, but several nations have taken the step to impose a tax on sugary beverages to battle with this growing contagion.
Chief Medical Officer (CMO), Dr Shamdeo Persaud, during an interview with Guyana Times, noted that obesity was quite widespread in the country, but lamented that the lack of funding has severely hampered public awareness campaigns.
He disclosed that obesity in children under the age of one saw a threefold increase over the past five years and that observations show that excessive weight gain was prevalent among schoolchildren who had unlimited access to a variety of unhealthy food, especially sweetened beverages.
Dr Persaud said a soda tax would make significant strides in reducing public consumption of aerated drinks and would generate enough revenue to fund impacting awareness campaigns that can compete with high-budget advertisements which promote unhealthy lifestyles.
In recent months, the concept of a soda tax has been brought to the forefront and Public Health Minister, Dr George Norton already indicated that Guyana could explore this option in an attempt to encourage healthier lifestyles among citizens.
In fact, Pan American Health Organisation (PAHO) Country Representative, Dr William Adu Krow, during a health forum at the Regency Hotel in October, disclosed that a representative from the Finance Ministry sought his advice on the implementation of a soda tax.
Former Health Minister, Dr Leslie Ramsammy underscored the effectiveness of a soda tax, noting that by introducing such taxes, Governments would ultimately be helping poor communities who least can afford the health care that would be demanded by diseases, such as diabetes and heart diseases.
Soda's connection to the obesity epidemic is so intertwined, Harvard researchers have calculated each additional soda consumed increases the risk of obesity 1.6 times.
Incessant soda consumption eventually leads to increased risk of diabetes, osteoporosis, reproductive issues, heart diseases, and kidney issues, among other health dangers.
Research shows that while less than 800 million people go hungry every day, more than two billion people consume diets that are making them sick.
The World Health Organisation (WHO) on October 10 also endorsed the soda tax movement which has proven to successfully advance the fight against obesity.
Charging heavy taxes on soda will pressure distributors to pass the cost along to businesses and consumers. Should they increase the price of their products – and this is the straightforward effect – the additional cost could reduce soda consumption by encouraging people to select healthier, cheaper options.
Additionally, a taxed industry will act as an "anti-soda" public health campaign since people tend to understand that product-specific taxes are only levied when a substance can cause harm.
Such a shift occurred with tobacco when countries around the world implemented the tobacco tax.
Several countries have introduced taxes on sugar sweetened beverages, including Chile, France and Hungary, which tax food and drinks with high sugar, salt and caffeine content. More recently, the United Kingdom announced that it would introduce a tax on some sugar sweetened beverages by 2018.
Perhaps the most popular success story is that of Mexico, where implementation of the soda tax resulted in the purchase of soda decreasing by an incredible 12 per cent within a year.
The recent imposition of the soda tax in Barbados also proved effective, with a 26 per cent reduction in the intake of sugary beverages within a year.
But in addition to the soda tax, the fight against obesity requires a major cultural shift whereby the population becomes more health conscious and favours making healthier decisions as opposed to being forced.
The CMO explained that for starters, Government should replace the sugary beverages in the school feeding programmes with healthier options like milk, water or pure fruit juice.
He noted that there are many more initiatives Government could embark upon to control the obesity problem in the country, which has not yet escalated to severe heights as in other nations.
Dr Persaud also encouraged healthier eating habitats such as meals containing lesser sodium and fat.