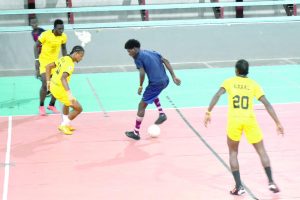 12 teams have now secured their spots in the next round of the ongoing Rock Auto Trans and Spare Parts' 'Legendary Cup' futsal tournament.
Stabroek Ballers, Future Stars, Gold is Money, Vengy FC, Alexander Village and Bent Street have been the latest teams to book their tickets to the next round of the straight knockout 'Legendary Cup' tournament.
In futsal action going down at the National Gymnasium on Tuesday night, Stabroek Ballers struck gold first.
Facing off with Jetty Ballers, Stabroek's Dorwin George, DaCosta Abogaye and Sean Taylor each netted one in the 3rd, 4th and 18th minutes respectively to overpower a lone goal from Jetty's Rocko Campbell struck in the 8th minute.
Mocha challenged Future Stars in the following game, but the latter ended up with a 3-2 win. A double from Lennox Young in the 21st and 23rd minutes, and one goal from Keron Solomon (28th) was enough to beat Mocha's 2 goals from Amos Ramsay and Rondel Smith in the 10th and 30th respectively.
Gold is Money eased past Albouystown in a come-from- behind style, compliments of a hat trick from Darren Benjamin. Benjamin found the back of the net in the 13th, 22nd and 23rd, while Michael Oje added the first to Gold is Money's tally in the 6th minute.
Albouystown's reply came from Dwayne James (4th) and Timothy Thomas (8th) who each netted one goal.
Vengy FC had a walk in the park against their fellow Spaniards, Avocado Ballers. Their 3-0 win came compliments of a Carlos Escobar hat-trick, who found the back of the net in the 4th, 9th and 12th minutes.
Meanwhile, Alexander Village thumped Espanyol 4-1 on the back of a brace from David George. George's goals came in the 5th and 27th, and were punctuated by one goal each from Gerry Burnette (9th) and Leon Yaw (25th) for Alexander Village. Espanyol's consolation goal came off the boots of Alejandro Ramos in the 30th minute.
In the final game of the night, Bent Street eased past Vryheid's Lust 3-1. Vryheid's Lust were actually the first to score in the 3rd minute, the goal coming off the boots of L. Roberts. However, the experienced Bent Street soon took control, as Adrian Aaron made it a 1-all game in the 6th. Cecil Jackman (13th) and Marcus Wilson (21st) extended Bent Street's lead for the victory.
The teams that will advance to the next round of the Rock Auto Trans and Spares Parts 'Legendary Cup' are Sparta, Back Circle, Tiger Bay, Leopold, BV, Kitty FC, Stabroek Ballers, Bent Street, Gold is Money, Alexander Village, Vengy FC and Future Stars.
The tournament will continue this Saturday, February 11, 2023 at the same venue. Teams are vying for over $1M in cash and prizes, inclusive of a motorcycle for the tournament's MVP. In addition, a lucky fan would also ride away with a motorcycle at the tournament's conclusion.