– 4 homeless
A Mocha, East Bank Demerara resident is counting her losses after her years of hard work and savings were destroyed in the blink of an eye following a fire on Tuesday night, which left four persons homeless.
The fire reportedly started about 21:30h in the upper flat of the Lot 6 Plantation Prosperity, Barnwell North, Mocha home after a candle was left unattended.
The building previously housed a salon, but was later converted into three apartments that were all rented out.
When Guyana Times visited the scene, the entire upper flat of the concrete and wooden structure was completely destroyed.
This publication was told by the owner, Sappha Lord, that currently the area has no electricity, but she uses a generator to provide electricity to her tenants.
Lord revealed that on Monday last she had taken the generator to be serviced and as such, the tenants were all using candles.
One of the tenants reportedly lit a candle after which she went out. Around 22:00h, Lord was awakened by strange sounds and upon inspection, she saw that the house was on fire.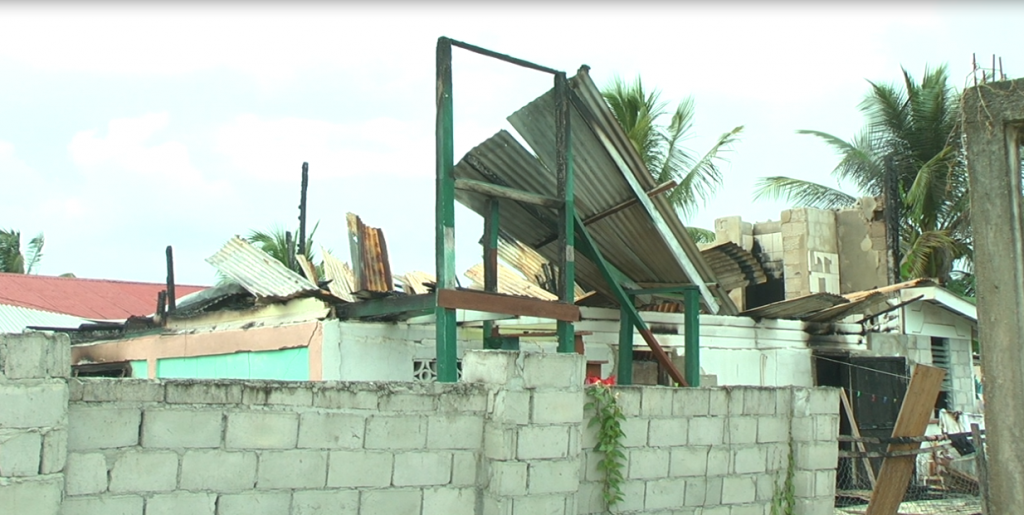 "Everything gone. All of my hard work. I work hard to bring this up. This is what I does depend on for me family and them thing and now I ain't got nothing," she cried as she spoke with this publication.
Lord, however, thanked the community for their assistance, noting that many persons helped, but  there was not enough water sources close by to douse the flames.
"Everybody in the community come out, they come out with buckets and everything and we ain't had no water because the canal stagnated," she explained.
She noted that by the time the Guyana Fire Service arrived at the scene, the flames had already engulfed the house. Additionally, there were difficulties in sourcing water.
The distraught woman is further contending that had the Government answered the community's calls for electricity in the area, the fire could have been avoided.
"Late last year, we call out for somebody to come in because snakes does be coming up [from the trench] and all kinda thing does be coming up from the canal. It stagnated, you know with the mosquito and thing. We begging for we lights, for we get we lights because if we had lights you could've say it was the electrical problem, but is not electrical problem. Is just a candle and all ah me hard work gone. Everything," the woman said in tears.
Fire officials are investigating the incident.  (Kizzy Coleman)