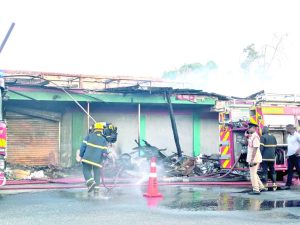 Almost three months after a fire destroyed a supermarket on Saffon and Sussex Streets in Georgetown, its remains were set aflame once again on Friday afternoon, with preliminary reports pointing towards it being the work of vagrants.
The fire reportedly started around 16:00h, though neighbours of the burnt building say its debris has caught aflame several times over the weeks–a result of the owner allegedly not clearing up the remains.
In July, firefighters rescued five Chinese nationals who were trapped in the two-storey Hong Wei Supermarket after a fire started in the building that is reportedly owned by the proprietors of Ravina Anand's Home Goods.
Despite efforts by the Fire Service, the building was gutted, with eyewitnesses saying that the upper flat collapsed first while the second was completely charred.
The neighbouring building, also destroyed by the fire, was a meat centre owned by Alvin Rambarran.
Neighbours of the building expressed that the area had not been properly cleared after the initial fire, thereby causing these subsequent occurrences.
"The owner supposed to come clean up this place because Rambarran done clean up his place. When the junkies go in there and they smoke and they fall to sleep, it lighting back. The smoke killing all of we. If the fire spread to Sussex Street, we will get caught. [The owners] supposed to come and move out his things," said neighbour, Tessa Cheeks.
Guyana Fire Service (GFS) Officer Thomas explained that after the Fire Service declared the scene of the fire safe months ago, the onus was on the owners to take care of cleaning up the area. He noted that this is approximately the third time firefighters have been called to the same scene.
"As I got the report of the call, I came right over. I think it's just vagrants who set this place on fire, who lit up the garbage. It's rubbish basically–they just lit it and it went undetected. We were called when there was already a large fire," Thomas said.
"We would only be called when there's a large fire. When we get here and we try to find out information from persons, they're refusing to say who exactly lit it so we can't safely say who it is but we know the area is prone to vagrants," Thomas said.