First Lady Arya Ali, on Friday, joined mothers in the delivery unit of the Georgetown Public Hospital Corporation (GPHC), to celebrate the birth of 15 New Year's Day babies. She was accompanied by CEO Brigadier (ret'd) George Lewis. The First Lady praised the maternity staff for the work they have been doing.
"I must commend you all in this COVID time where we're all, each and every one of us, battling this pandemic but we'll make it through. I just want to wish you all a happy, healthy and a prosperous new year and stay safe," she is quoted as saying by the Department of Public Information (DPI). Ali also distributed care packages to the mothers.

Ali also visited the ward on December 25 to celebrate with the mothers of Christmas Day babies.
Meanwhile, in Berbice, five babies were born on New Year's Day and all of them were at the New Amsterdam Hospital, Region Six (East Berbice-Corentyne).
On New Year's Day in 2019, there were four compared with two in 2018 at the same hospital and in 2017, there were nine and one in 2016. On New Year's Day 2015, there were five babies born at the New Amsterdam Hospital on New Year's Day.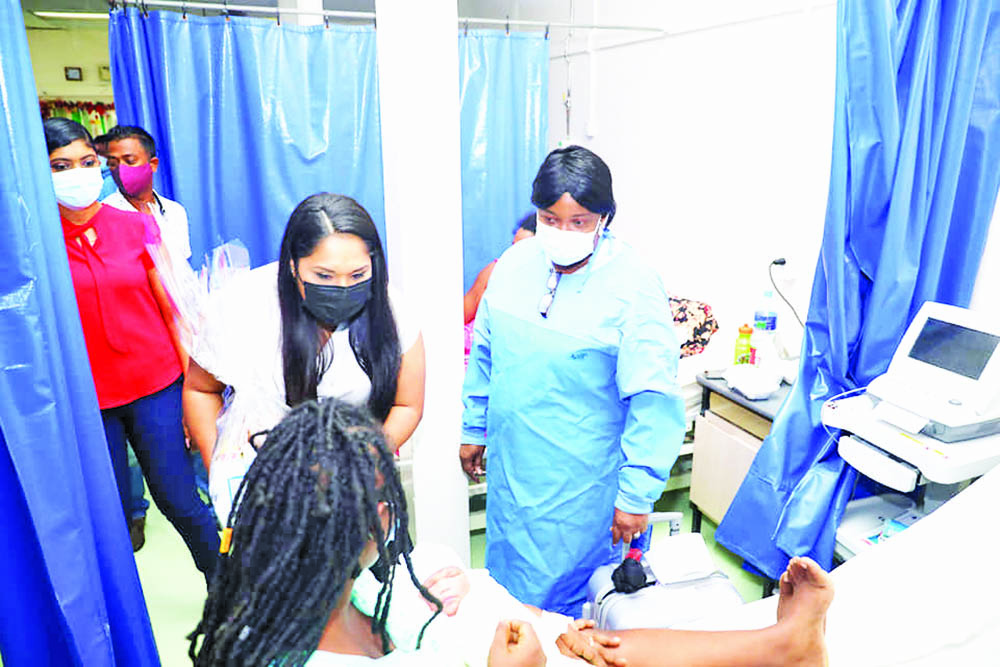 The first baby was born at 01:45h.
Little Shizela weighed 2.1 kg. She was born to Lisa Edwin of Section A Number 70 Village, Corentyne. Two and a half hours later, Marie Ali of Cotton Tree Village, West Coast Berbice, gave birth to a 2.5 kg girl.
It was the fourth child for Edwin, who explained that she was ill during her three previous pregnancies and this one was no different.
For Marie Ali, it was her first child and a special one, being a New Year's baby.
Meanwhile, Tiana Karpen of Chesney, Albion, Corentyne, delivered the day's only boy at 12:54h. the baby weighed 2.4 kg.
The other two mothers were Goroshnie Goordial of East Canefield Settlement and Tarmila Bhawan of Number 72 Village, Corentyne, both delivering girls, at 20:20 and 21:58, respectively.
All of the mothers were presented with gifts from the health department.