In the past few years persons have embraced artificial flowers unapologetically, welcoming the silk, polyester or poly-blend versions of succulents, orchids and hydrangeas among others into their homes. In the past, they carried a stigma, which stemmed from a dusty arrangement on grandma's coffee table, but recently the tide has turned, thanks to modern materials and more sophisticated designs.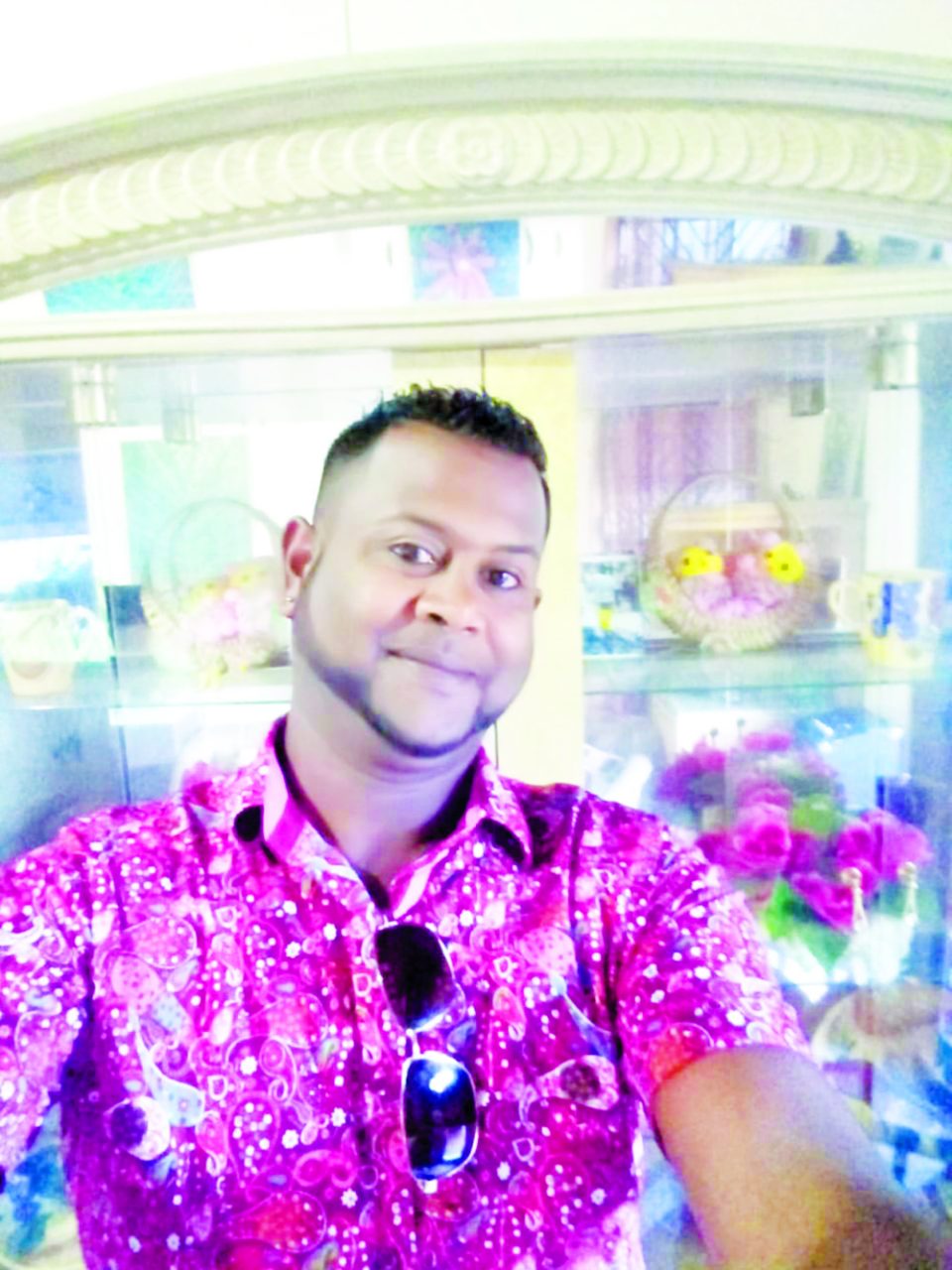 Artificial arrangements are now part of most Guyanese homes during the Christmas season, since the bouquets add a luminous look to the home. One person who contributes to beautifying the home with his ravishing floral arrangements is Chaitanand Singh.
Singh grew up in the beautiful small community of Herstelling, East Bank Demerara (EBD) with his parents and six siblings. He explained that growing up in a small community was challenging at times, since a lot of poor families were resident and certain opportunities were never afforded.
Being the second eldest child, Singh felt pressured into fending for the family at an early age because of poverty. Many days the family relied on fish caught from nearby trenches and vegetables they planted to eat. Eating chicken was a luxury for Singh and his family – it was offered only on Sundays. However, this did not prevent Singh from trying to gain a sound education.
He stated that as a child, going to school was one of his favourite things and just the thought of being in a position to eliminate poverty from his family inspired him.
"Many days I went to school bare feet and with no money to buy lunch, but nothing was going to prevent me from escaping poverty."
Singh dropped out of school sometime later owing to financial constraints. His parents could not afford to pay the common entrance fee which rendered him helpless.
"I started working in a store in downtown for only $2000 a week for several years, but by throwing box on a weekly basis I was able to save tremendously."
Singh stressed that being a young gay man working downtown came with a lot of hardships. Being bullied on a daily basis made Singh attempt suicide on four occasions. He later decided that there was more to life and never again made such an attempt.
Gardening was something Singh was always intrigued with and he decided to pursue this path. He later on discovered his love for flowers and started to make floral arrangements.
"People want to have the fresh-flower look in their home and having floral arrangements brightens up the environment."
Singh added that in terms of floral arrangements, Christmas is the best time of the year, since it brings joy and families together.
"When I make arrangements and my customers thank me, I feel overjoyed. The simple fact that someone can acknowledge your craft is amazing. I love making people happy and once my arrangements can add a feeling of joy, I will be delighted to continue down this path."
The whole idea of Christmas excites Singh and decorating tends to always make him happy.
In the month of December, the passionate craftsman makes and sells over 27 floral arrangements, both fresh and artificial. His residence has a combination of over 100 species of flower plants which highlight his craft.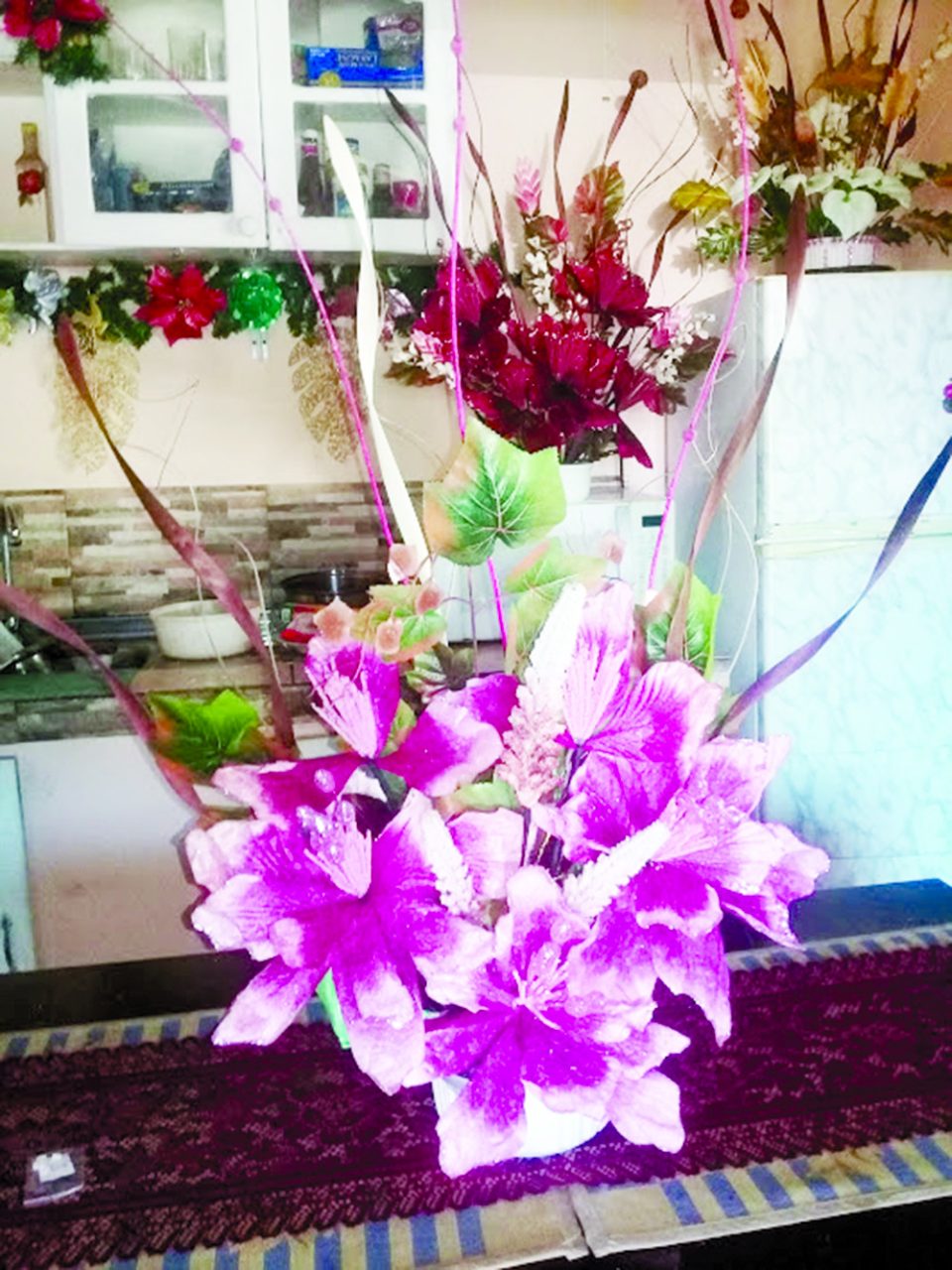 In his spare time, Singh volunteers for elderly persons by decorating their homes and making floral arrangements to add to the beauty. According to Singh, floral arrangements make a room look fresh, airy, and beautiful.
"Arrange a variety of floral displays to decorate every room in your home. Greet your guests with a vase of pretty flowers on the foyer table."
How to make floral arrangements
Firstly, choose the type of flowers you'll use for your arrangement: fresh or silk flowers. Use fresh flowers if you enjoy the creativity of making a completely new display.
Some varieties of fresh flowers give a room a wonderful aroma. You can use silk flowers if you want a long-lasting display or are allergic to pollen.
Select colours that will complement the room décor. You can use a combination of flowers or be neutral.
Look for unique containers for your flower arrangements. You could use brass containers, ceramic vases, wicker baskets, large coffee mugs, sculpted clay, wooden boxes and even large conch shells for an informal bathroom display. Remember that fresh flowers need a watertight container.
Measure the inside of the container and cut a piece of floral foam that will fit snugly. Glue the foam to the bottom and set the container aside to completely dry.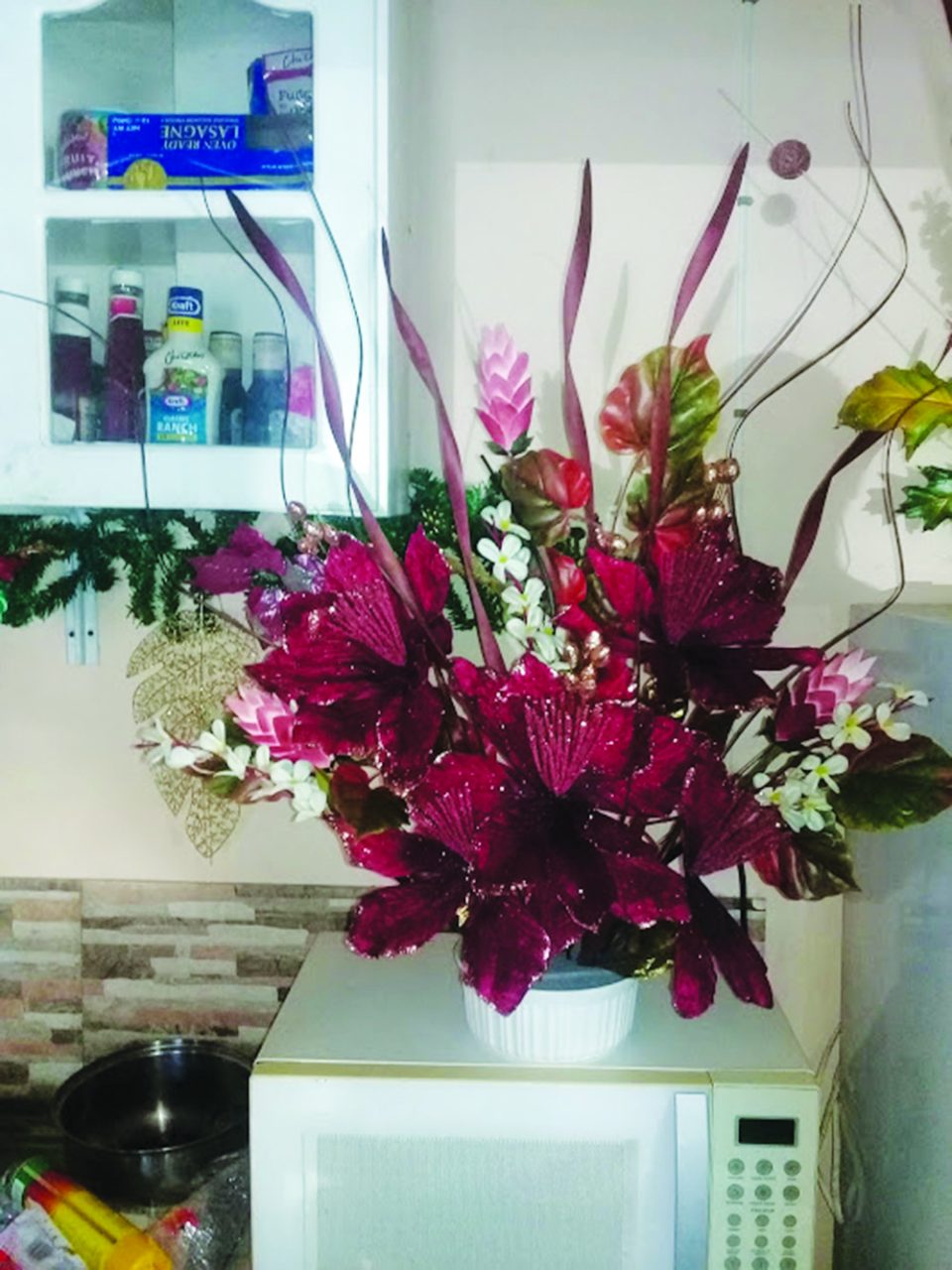 You will then have to soak the floral foam if you are using fresh flowers.
Trim the lower leaves and thorns of fresh flowers so they will not rot or mould in the water.
Cut the stems at a diagonal to expose more surface area (they will absorb more water).
Arrange the tallest flowers and greenery first. Place them in the middle if the arrangement will be a centrepiece. Otherwise, place them in the back of the container.
Arrange the rest of the flowers and greenery, being careful to not create patches of a single colour. For example, if there are several red flowers placed together, insert a pink or yellow flower plus some greenery to break up the patch.
Add some trailing greenery if you are using a basket or wood box. The greenery will soften the sharp outline of the container and keep the eye flowing to the table.
Attach a silk ribbon for a final touch. You can change the ribbon throughout the year. For example, use a red ribbon for Valentine's Day, green or red for Christmas, flag colours for Independence Day and so on.
Finally, you will add centrepieces to the coffee and dining room tables, the buffet, bedroom nightstands and bureaus, and perhaps the bathroom counter.
Flower arranging is an artform that involves essential design principles of proportion, balance, contrast, and harmony. It revolves around the basic principle that flowers when arranged in a specific fashion appear even more appealing and attractive. Flower arranging is all about presentation, wherein flowers are presented in the best possible manner.
If you would like to order an arrangement, Singh contact number is 693-1294. (Oma Lesa Pierre)