– cites professionalisation of GECOM, instilling public trust as priority areas
Former Home Affairs Minister and People's Progressive Party/Civic (PPP/C) stalwart, Clement Rohee was on Tuesday sworn in as the Government-nominated Commissioner on the Guyana Elections Commission (GECOM), taking the seat left vacant by the death of Bibi Shadick.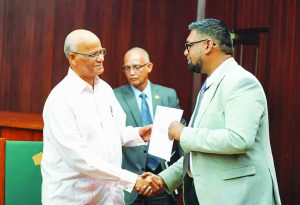 Rohee took the oath of office before President Dr Irfaan Ali at the Office of the President, Shiv Chanderpaul Drive, Georgetown, during which the Head of State paid tribute to late Commissioner Shadick, who passed away over the weekend.
"It gives me great honour to congratulate Rohee on his appointment. Mr Rohee is no stranger to our country or to public life or in his pursuit of free and fair elections and building a country in which the rule of law defines our actions and who we are as a country."
"It is with sadness also that we reflect on the member he is replacing, Bibi Shadick, who has lived her life with great dignity and who has served us well. She has indeed left a great legacy for women and for our country as a whole," Ali said.
President Ali also expressed confidence that Rohee's experience, both at the national level where he has served in various ministerial positions and in past elections, would help to strengthen GECOM.
"I'm sure that his experience, not only at the national level but his previous experience at the Elections Commission, will bring great value to the work of the commission. It would help to strengthen the commission. And definitely, it would benefit our country as a whole," the President said.
GECOM Chairperson, Retired Justice Claudette Singh, also commented on the passing of former Commissioner Shadick, as well as on Rohee's appointment. According to Justice Singh, Rohee should fit right in.
"Ms Shadick was a teacher. And she was always well prepared. And we spoke every morning. She would raise a matter, anything she would raise. Mr Rohee, I think he will fit in. Because he has institutional knowledge. He has experience. And he knows politics very well, as a former Minister of Home Affairs."
Meanwhile, Rohee, following his swearing-in, highlighted several priority areas for him in his new position. This includes ensuring the professionalisation of GECOM staff on the ground, particularly those that have to interface with the public.
"We know when we go to a polling station or to registration, certain perceptions tend to emerge. So, we need to have staff that reflects what Guyana looks like. And this is going to be extremely important," Rohee said.
"It's also going to be important for staff to be professional in the conduct of the activities and in their attitude towards people. So, the face of GECOM is not so much the commission, but the staff. Because on the ground it's the GECOM officials who are the public face of GECOM."
Rohee is a former Minister of Foreign Affairs from 1992 to 2001, Minister of Trade from 2001 to 2006, and Home Affairs Minister from 2006 to 2015. He also served as the PPP/C General Secretary from 2013 to 2017.
His predecessor, Shadick, died at her East Street residence sometime around 15:00h on Saturday. She was reportedly battling prolonged heart and respiratory issues. At the time of her death, Shadick was still serving as a GECOM Commissioner and had participated in meetings as recent as last week Monday, Tuesday, and Wednesday.
She was also a PPP/C stalwart and served as the Minister of Human Services and Social Security for several years as well as a Member of Parliament up until 2015. She was also appointed Pro-Chancellor of the University of Guyana (UG) in 2015 and served in that post for some two years. At the time, she was a serving member of the University Council.