– during CELAC Foreign Ministers summit in Argentina
The regional food security and production in Guyana is a priority in its climate change plans. This is according to Foreign Affairs Minister Hugh Todd, during the Community of Latin American and Caribbean States (CELAC) XXII Meeting of Ministers of Foreign Affairs summit.
Minister Todd recently attended the CELAC XXII Meeting of Ministers of Foreign Affairs summit which was held in Buenos Aires, Argentina. During his address to the summit, Todd spoke of Guyana's Low Carbon Development Strategy (LCDS). Minister Todd further noted that Guyana's national climate adaptation plans give priority to regional food security and production.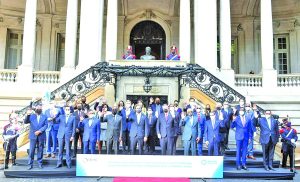 According to the Foreign Affairs Ministry in a statement, the Minister also called for CELAC to use its voice in advocating for global temperatures to be maintained, as set out in the Paris Agreement.
"The Foreign Minister said that CELAC must be persistent in advocacy for the stabilisation of global temperatures at 1.5 degrees Celsius as called for in the Paris Agreement," Minister Todd explained.
"In this regard, Minister Todd spoke of the LCDS which objectives are to focus on forest climate services and other ecosystem services, stimulate future growth through clean energy and sustainable economic activities and protect against climate change thereby aligning Guyana's economic and social policies with global climate goals."
The Foreign Minister also spoke of the socio-economic impact of the pandemic, which he said is being prolonged with the emergence of new strains of the virus which has further delayed efforts to embark on economic recovery programmes.
Minister Todd also called on member states of CELAC to use one voice in advancing positions for sustainable financing mechanisms to accelerate inclusive and equitable recovery, a call that has also been made by President Dr Irfaan Ali to Finance Minister Dr Ashni Singh.
The Minister also welcomed the Government of Argentina on its assumption to the Presidency of the Pro Tempore Secretariat for the new period and pledged Guyana's continued support towards the CELAC agenda.
He also lauded Argentina's proposed Work Plan and noted that it provides continuity towards addressing the developmental challenges of the region and the strengthening of the integration process.
The Community of Latin American and the Caribbean States (CELAC) was launched in 2011 and it functions as a regional mechanism for political dialogue and cooperation. It is comprised of thirty-three (33) countries of Latin America and the Caribbean (LAC).
CELAC continues to deepen the dialogue among countries in the region in various priority areas including social development, education, nuclear disarmament, family farming, culture, finance, energy and the environment.