…tells Magistrate he is displeased with her tone
A Police Inspector was jailed for a few hours after he was found in contempt of court on Wednesday.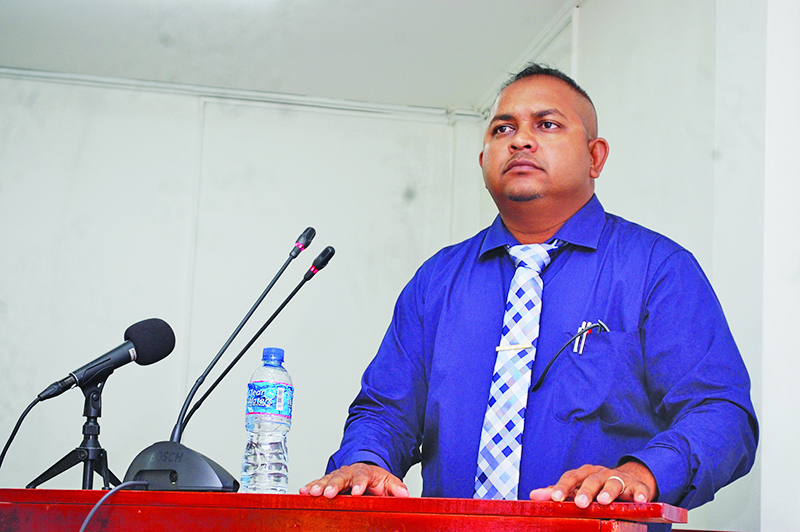 Inspector Prem Narine was jailed by Magistrate Rondell Weaver at the Georgetown Magistrates' Courts initially for seven days. At the time of his appearance, he was testifying in a $2.1 million fraud case against Mohamed Ali. Ali was charged for pretending to be Public Health Minister Volda Lawrence and therein collecting $2.1 million under false pretence.
While giving evidence, the Inspector on several occasions asked to see the statement he provided in the matter to refresh his memory. However, things went downhill when the Inspector asked again to see his initial statement and Ali began behaving disorderly in the courtroom. The Magistrate allegedly shouted at the prisoner to conduct himself properly and told the Inspector in the same tone that he too cannot be constantly requesting his statement to refresh his memory.
This allegedly angered the Inspector, who told the Magistrate to address him properly, while allegedly uttering other remarks to the Magistrate.
He was then ordered to exit the witness box and to take a seat, but he reportedly began to raise his voice at Magistrate Weaver. The Magistrate then warned him again, but the Inspector allegedly walked out of the witness box and walked out of the courtroom. A Police Constable was told to arrest him for contempt, but the Inspector blatantly told the Constable that he was of a higher rank and could not be arrested by him. He was eventually arrested and sentenced to the Camp Street Prison for one week. However, as he was awaiting transport to the prison, the Inspector began complaining of feeling unwell and was taken to the Georgetown Public Hospital where he remained a patient under Police guard. His lawyers subsequently moved to the High Court to have the sentence reduced to a few hours.