By Jemima Holmes
For many attorneys-at-law who gain admission to the Bar, a success story lays somewhere in their journey, leading up to the fateful day that they gain admission. In the eyes of Shareefah Parks, her entire journey is that success story, as she worked day in and day out to break free of other's perception of her.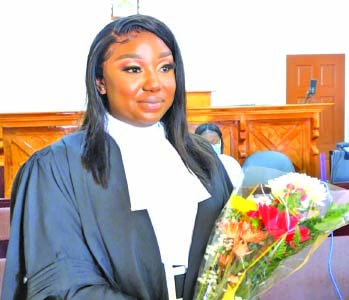 The 28-year-old, who recently graduated from the Hugh Wooding Law School (HWLS), was admitted to the Bar before Justice Fidela Corbin-Lincoln.
What is special about Parks, is her background and her reluctance to settle for less than she envisioned for herself. The former student of St John's College excelled at her Caribbean Secondary Education Certificate (CSEC) exams and went on to complete her education at the Bishops' High School. Thereafter, while being employed as a law enforcement officer, she pursued a diploma in Communication Studies at the University of Guyana before going on to join the University's Law programme, where she attained her Bachelor of Laws (LLB) degree in 2018.
Her journey then took her to Trinidad and Tobago, where she completed her Legal Education Certificate (LEC) at HWLS.
Speaking following her admission to the Bar, the new attorney-at-law explained that her unique journey has perfectly shaped her for the one she is about to embark on.
"Well, I think my journey was an extraordinary one because I was a former police officer attached to the immigration department and I think that shaped several things for me. It shaped the need to do law and also for me to build myself as a person and a professional and so on," Parks stated.
She further reiterated that someone's current position in life does not determine where they are destined to go; a philosophy that has helped her personally.
She explained, "And I think St John's College also shaped me because it says that where you come from is not where you're destined to stay but it depends on how you feel you want to portray yourself and you have to make that push."
Parks went on to share a piece of advice that was given to her years ago that stuck with her and even became the young lawyer's personal mantra. She shared, "I remember my former Headmistress from St John's College; she said it's not what they call you but what you answer to that's important in what you do."
What does Shareefah bring to the table? The new attorney sees her background in law enforcement as a positive addition to the densely-populated career path in Guyana.
"I'm someone who is dedicated to bringing integrity, confidence; so much things I can offer. I'm disciplined as a former police officer and so on," she commented.
Parks does not intend to settle as a lawyer. In fact, the young woman has her heart set on becoming the Minister of Home Affairs or the Attorney General in years to come.
"I'm just excited to start this journey, I have so much to offer both in a public and a private capacity," she said, eyes twinkling with excitement.