…one year after agency took over drainage responsibility from GuySuCo
By Shemuel Fanfair
As the Administration had moved to downsize the sugar industry in 2017, Government had, in June of that year, announced that the National Drainage and Irrigation Authority (NDIA) would be assuming responsibility for drainage of the West Bank Demerara corridor from the Guyana Sugar Corporation (GuySuCo).
However, several months later, farmers on the West Bank Demerara (WBD) corridor are still awaiting the Agriculture Ministry's sub-agency's assistance in clearing irrigation canals, which is a necessity in crop management and the maintenance of good husbandry practices.
On Friday last, the National Assembly passed the 2019 Budget, tuned to the sum of $300.7 billion; and from this cumulative figure, the NDIA has been allocated just over $2 billion. Under the relevant programme, it was outlined, that allocation would account for the "completion, construction and rehabilitation of drainage and irrigation structures, pump stations and payment of retention."
On this publication's recent visit to the WBD area, it was evident that several canals had been overtaken by overgrown bushes, including the channels leading to the Wales Sugar Estate, where punts would be pulled to offload farmers' cane from fields.
This situation was unlike what obtained when the Estate had been functioning, before the entity officially ended operations in December 2016. After 2017, there was little evidence of any rehabilitation of drainage and irrigation works being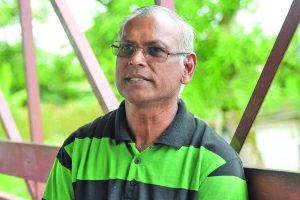 conducted in several of the canals in many of the surrounding farmlands.
The village of Bellvue, WBD, where many residents farm on leased land, was affected by the closure of Wales Estate. Residents opted, with some challenge, to plant diversified crops, as their original agreements from the 1950s outlined that they could only plant sugarcane. Producers of the Bellvue Cane Farmers Co-Op Society petitioned President David Granger in 2015 to be allowed to plant diversified crops. They were finally given the go-ahead in 2017, and now that this has been sorted out after the shuttering of Wales was finalised, these farmers have encountered other problems, whereby the seeming non-assistance by the NDIA has caused them to sustain losses.
Farmer Balram Balkarran told Guyana Times last Sunday that in October, when the dry conditions prevailed, Bellvue farmers lost "several acres" of bora, pumpkin, saime, watermelon, among other crops. He said this was owing to the poor irrigation in the area, due to blocked channels. He said that while farmers are overjoyed that the rains have come, the bush clearing in the waterways is vital to them sustaining their livelihood.
Two farmers who have private pumps would lend their equipment to some of the others to utilise. Owing to their losses, the farmers have switched to other crops, such as cassava, plantains, bananas, sweet potatoes – which can better withstand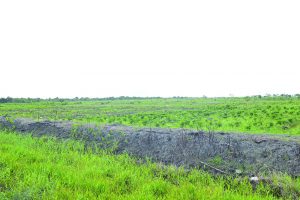 the weather conditions.
"The NDIA supposed to provide the irrigation for us; they have the infrastructure. We don't have the capacity, or the finance, or the machinery to excavate these overgrown weeds," the farmer outlined.
When Guyana Times met with them in October, they had been sourcing water. At that time, some farmers had estimated their losses at near $40,000 per acre, having noted that it had taken about $20,000 to $40,000 per acre to go into other crops. The farmers, who had provided 50 per cent of the canes at Wales, called for compensation, but to little or no avail.
In December 2016, when Wales closed down, water in the access canals leading to the Kamuni Creek had flowed freely to the Wales area through the community of Renistyne.
However, when GuySuCo stopped maintaining the many punt trenches in the area, many of the channels became blocked.
In fact, some sugar workers living in the area were also affected, as they supplemented their income via fishing in the trenches. Fifty-seven-year-old Bellvue farmer Ramchuran Sukhnan had told this newspaper of the many expenses he has been paying since leaving the sugar industry, and he declared that he would be grateful for grants and subsidies, as he still had to acquire seedlings.
He had said that he paid $50,000 in labour costs to clean one of his plots, and $40,000 to prepare the beds, in addition to other costs.