…as Govt also plans road upgrade project in Diamond
By Jarryl Bryan
Among the flurry of infrastructural development underway, President Dr Irfaan Ali has revealed that the Government is looking at building a four-lane road between Eccles on the East Bank of Demerara (EBD) and Mandela Avenue that will significantly ease the traffic congestion.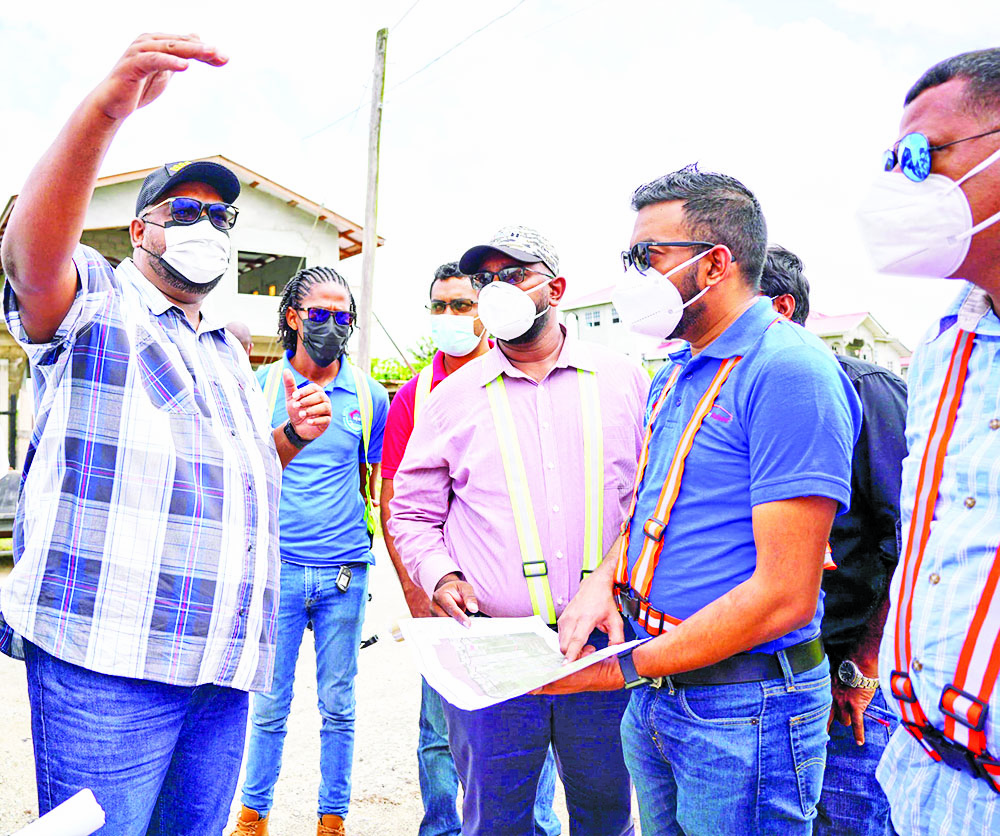 This was revealed by the President during a site visit with technical and other officials on Saturday. According to President Ali, the first phase of the overall Ogle-Diamond bypass project is from Sixth Avenue Diamond to Eccles, which should be ready for vehicular traffic by April 2021.
The second phase, which is from Eccles to Mandela Avenue road link, will tie in with the overall four-lane project currently being built. The President was hopeful of its completion by November of this year.
"Basically, what we're doing today is checking various alignments and interconnections with the development along the East Bank. As you're aware, we have a massive four-lane road project and that's funded by the Indian Government, from Ogle to Eccles and then taking it on to Diamond. We're already seeking financing for that," Ali explained.
"But in addition, because of the immediate need to ease the congestion, we're now building an interconnection here between Diamond. By the end of April, we'll have ready for vehicular traffic from Diamond to Eccles. And then we're looking at another four-lane connection from Eccles to Mandela. And hopefully, by October/November we can have that ready."
The President, whose PhD is in urban and regional planning, said that this is all a part of the Government's drive to transform Guyana's infrastructure and link communities. But additionally, they are taking into account security for these newly expanded road networks.
"This is part of the infrastructure transformation and an integration of communities. Because now Diamond, Prospect, Eccles, Herstelling, Cove and Garden, Mocha, all these communities will be integrated."
"And that is part of urban planning too. And we're also working with the Police to ensure that we have security measures, lighting, Police presence and everything. Not only to have infrastructure, but to make sure it is safe," President Ali said.
Upgrade Diamond roads
Ali also spoke of an upcoming project to resurface and upgrade the roads in Diamond, East Bank of Demerara (EBD), to concrete roads. He noted that this project is likely to commence in the next two months.
"We also are embarking on a project to upgrade the roads in Diamond, to hard concrete surface. So that project should commence sometime within the next two months. So, it's a lot of work, a lot of infrastructure and investment from the Government."
"And all of this is to bring ease to the commuters, faster commute time. Less wear and tear on vehicles. The amount of manpower we lose in traffic is not sustainable for our development or the commuters themselves," the President said.
The bypass project will see a total of 26 kilometres of road constructed, linking two of the country's main thoroughfares. This new road link will also be connected to key communities in Georgetown and along the East Bank of Demerara. These include Diamond, Mocha and Eccles – all on the East Bank – and Aubrey Barker Road in Georgetown. These connections will prove crucial in diverting traffic.
At present, works are ongoing on the new alternative road connecting Diamond and Eccles on the EBD corridor in order to ease the traffic congestion. The new alternative road will run from Sixth Avenue, Diamond, to the Windsor Estate Road that leads on to the Eccles Landfill Site Road. This will form a connection through the new Herstelling Housing Scheme and other schemes that are being developed along the EBD corridor.
These projects are part of the India-funded Bypass Road Project which would link the East Bank Demerara corridor to the East Coast of Demerara, creating a new highway in the backlands. The Indian Government had provided a US$50 million Line of Credit (LOC) for the road link that was initially slated for Ogle, ECD, to Diamond. Under the previous Government, the project was at a standstill for several years.
The Ali-led PPP/C Administration has since redesigned the project into three phases to fit the LOC. It will now run from Ogle to Haags Bosch at Eccles in the first phase, then from Eccles to Diamond, and finally from Diamond to Timehri to connect to the Cheddi Jagan International Airport (CJIA).
Public Works Minister Juan Edghill recently told reporters that the documents with the redesigned project have been sent to the Indian Government and they are awaiting approval.
Meanwhile, Indian High Commissioner to Guyana, Dr KJ Srinivasa has noted that clearance should be given for the project within the next few weeks.