By LaWanda McAllister
A 23-year-old construction worker of Friendship Squatting Area, East Bank Demerara (EBD), is now dead after he was stabbed twice during a quarrel over his aunt.
Dead is Joseph Ferdinand also referred to as "Joshua".
Reports are that the victim and the suspect are known to each other and on the day in question, they were involved in a heated argument during which the suspect armed himself with a knife and stabbed the construction worker once to his front upper left chest and once to his lower left side chest.

The victim reportedly collapsed and was picked up by residents and taken to the Diamond Diagnostic Centre where he was pronounced dead on arrival.
The suspect was subsequently arrested by Police after he turned up at the Diamond Diagnostic Centre to request treatment for injuries to his face and body, after being beaten by villagers.
He is presently being treated under Police guard for injuries he received at the hands of citizens.
Guyana Times visited the dead man's home on Tuesday where his mother Zioni Ferdinand recalled what she heard happened.
"All I get the message at home that my son get jook on his heart, and he gone to the hospital, when I reach to the hospital, the doctor say he come without life in his body. My sister and the boy had a talking, and he come and tell the boy, why you troubling my aunty, and I made to understand that he push the boy, the boy out the knife and push it into he."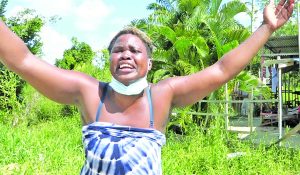 The woman said at the time her son was stabbed to death, he was at his place of work where he has been working for some time.
"That is my best son and he has just gone down. The place that he was, they always take advantage on him. The man that he works with, always work him out and owe him and leave him hungry and would always have to come home to me and ask me for food."
"It's very hard on me. I have a daughter that has a colostomy and this is very hard on me. This is not the first time something happened to my son there. Couple of weeks ago, a boy walk into the shop and slap him in the face…", the mother said.
Ferdinand, who is the eldest of nine children, according to his family, was left on the road to bleed out long before his family begged persons to take him to the hospital.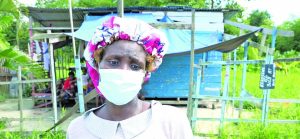 "I saw my son for the last time on Sunday because he would usually be by his aunty or grandmother… he didn't have no problem with anybody. The same boy, [the suspect] all of them do go and work on sea," she explained.
It is also alleged that the suspect is known for committing several offences in the community.
"He murder other people, but this murder he didn't get away from… God is in charge, and all is well. They [the dead man's employers] even got him working there, and put him to drink fowl blood. I don't know why they putting my son to do that; when he died, they didn't even show no mercy to come and take him to the hospital," the tearful woman explained.
Meanwhile, the dead man's aunt who didn't give her name, said their family needs justice for her nephew's death.
"We are poor, we don't know how we will bury my nephew. We don't have a dime, my sister [the dead man's mother] is pregnant, I have five children. We are single parents and we have to get justice… we don't have money. My sister [the dead man's mother] didn't even eat for the day and my nephew is in the cold and we can't afford to bury him."
"We are pleading for help, we need justice please, please…", she exclaimed.