GFF-Always Championship Cup 2019
The clash of the GFF-Always Championship Cup 2019 will be today from 13:00hrs hours when the two undefeated sides face off in what is anticipated to be an exciting showdown.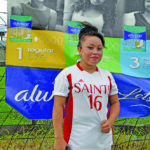 Fruta Conquerors and Lady Panthers who both brushed aside their opponents yesterday at the GFF National Training Centre at Providence will clash today in a match that is anticipated to be an intense affair.
Conquerors have scored a total of 18 goals in two matches, thumping Santos 10-0 and yesterday they arrested the Guyana Police Force 8-0. Lady Panthers on the other hand have netted a total of eight (8) goals in their two wins so far, defeating the Guyana Police Force 3-0 and yesterday they romped to a 5-0 triumph over Foxy Ladies.
While Fruta Conquerors boasts a formidable side, Lady Panthers have shown that they will be a force to reckon with and would be led by the championship's joint leading goal scorer, Shavey Reuben who has six to date; scoring all five in her team's 5-0 win over Foxy Ladies yesterday.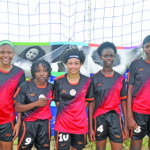 Conquerors' Tiandi Smith also has six goals to her account so far and would no doubt be seeking to further increase that tally against the Panthers today. Conquerors' Lakesha Pearson and Abiosi Heywood both with four goals each will form potent support for Smith in their quest for their third win in as many matches.
The feature match today will see Santos and the Guyana Police Force going for their first win after one and three matches respectively from 15:30hrs. Foxy Ladies won their opening match last week 2-0 against the Guyana Police Force.
Meanwhile, yesterday, the Fruta ladies continued to show that they are arguably the best female side in Guyana following in the footsteps of their male counterparts, the GFF Elite League champions.
They took care of business against one of the new kids on the block, Guyana Police Force, 8-0. Tiandi Smith led the goal account with a Helmet-trick in the 5th, 11, 22nd and 48th minute in another dominating performance for the Tucville based side.
Her tally was complimented by goals from Shamya Daniels (15th), Lakeisha Pearson (31st), Jimmaica Hunte from the penalty spot (36th) and Abiosi Heywood in the 55th minute.
In the opening match yesterday, it was the Shavey Reuben show. The #16 player was in ripping form as she single handedly mesmerized the Foxy Ladies defence netting all five goals.
Goalkeeper Leiona Douglas was beaten in the 15th, 17th, 40th, 45th and 51st minute. No doubt, Reuben would love to increase her personal tally today and lead her team to another win.