…as company commissions new US$7.5M dredge at Nismes
GAICO Construction and General Services has commissioned its new dredge at Nismes on the West Bank Demerara (WBD), which was hailed by President Dr Irfaan Ali as the precursor for de-risking investments in maritime and docking services.
The commissioning of the Malavi dredge, part of a US$25 million investment, was held on Saturday at Nismes. According to President Ali in his keynote address, GAICO's investment will likely de-risk the sector and encourage other investors to step forward.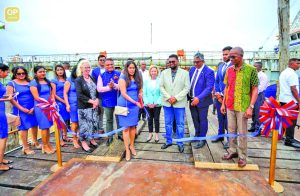 "I'm sure that it now de-risks other investors who want to invest in such facilities. Because it is an area that requires tremendous investment as Komal (Singh) would have said. So, these investments that are coming on stream, allows us to build our machining, our fabrication and marine industry, to another level. We have to decide who we want," President Ali explained.
"We have to decide, do we want to be the centre of the growth of the marine industry. And if we want to be the centre of the growth of the marine industry, what are the list of the services that we must provide?"
President Ali pointed out that the entire Caribbean is filled with wealthy yachters. He noted that all of those yachts require servicing, parts and docking. Guyana also presents unique geographical advantages, such as being outside of the hurricane belt. The President also spoke of developing a two-channel system.
"We can develop a state-of-the-art fabricating and machining capabilities in this country. And we can emerge as a servicing hub for the yachting industry in the region. How do we get there? We get there by careful planning and a thorough understanding of the opportunities that lie ahead. And this is the real dimension of growth and development of our country."
"We're operating in a river with a one-way channel. Just using the projection of the most basic of growth in this river, within five years, we have to get that to two-way. We have to create a two-way channel. And if you want to project further, not just a two-way but a diversion channel on the west side of the river."
In addition to their current fleet of vessels (which includes Hopper Dredges, Cutter Head Dredges, Hydraulic Cutter Head Dredges, Tugs, Barges, Supply Vessels and Backhoe Dredges), GAICO is now increasing their dredging capabilities by adding the Malavi, a trailing suction hopper dredge.
Malavi, according to GAICO in a statement, represents an additional investment that will increase the dredging capabilities in Guyana and the region, ultimately creating more jobs for Guyanese. According to GAICO's Chief Executive Officer Komal Singh, the vessel is important for the company as it is trying to meet the emerging demands of the Private Sector.
"This is a momentous occasion for GAICO as it will enable increased capacity and provide us with another opportunity to build local capacity within our team. As we strive to meet the emerging demands of the Private Sector in Guyana, we remain steadfast to our values and principles of putting people and safety first."
GAICO is meanwhile also building a wharf and dry dock facility at Nismes. The completion of the first phase will see a laydown yard, a one-finger-pier and the wharf front at the Nismes foreshore area. This facility, according to GAICO, will allow materials and equipment to be offloaded from vessels and stored until they are ready for further transport.
According to the company in its statement, as new infrastructural work in Region Three increases, there will be an increased demand for construction material produced outside of the region.
"By allowing ships to moor at the facility, supplies headed to Region Three could be discharged straightaway – reducing transportation costs. Beyond this, however, this facility is strategically positioned to support the oil and gas sector directly – particularly, the forthcoming gas-to-energy project in nearby Wales," the company said.
Other dignitaries joining President Ali at the commissioning ceremony were Foreign Affairs and International Cooperation Minister Hugh Todd, Labour Minister Joseph Hamilton, Minister within the Public Works Ministry Deodat Indar, Private Sector Commission Chairman Paul Cheong and members of the diplomatic community. (G3)