BACK HOME AT LAST!
By Brandon Corlette
There's no place like home! And Garfield Benjamin can support this assertion after spending 135 days in the twin-island Republic of Trinidad & Tobago, where the Guyana Under-19 cricketer was in lockdown brought on by the sweeping tentacles of the deadly COVID-19 pandemic.
Benjamin was all smiles and bonhomie as he touched down at the Cheddi Jagan International Airport at Timehri on June 19, and was very relieved to have completed his one-week home quarantine.
This excitable Berbician had departed his home turf on February 4, wheeling out his gear bag with the aim of scoring runs while playing for the Cosmos Sports Club in Trinidad & Tobago's Premier Two Division. He had expected to score a multitude of runs, but the COVID-19 pandemic scuttled his ambitions and thwarted his plans.
In an exclusive interview with this publication, Benjamin recalled his first experience of being on lockdown in unfamiliar territory. "It is a great feeling, after being away from my family for so many months…to return home (and be) among familiar faces," he first of all acknowledged.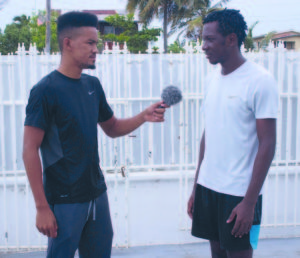 "For the first month or so, the cricket was really good," he continued. "I like the way the cricket is structured over there; it's a shame, actually, (my) not being able to finish the season, (although) I was not going through the best of patches; but it was a good experience, and I found myself getting better every day. So, I know the tournament would have been a good one for me," Benjamin explained.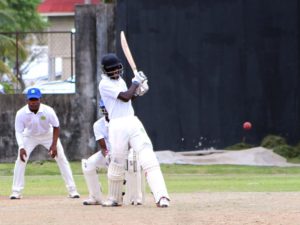 Benjamin noted that being on total lockdown around unfamiliar faces was very hard for him to endure, especially since this was his maiden stint in Trinidad and Tobago.
"They showed me good hospitality for the time being," he confessed. "(But) even though the country reopened around the starting of May, I could not go anywhere; so, it was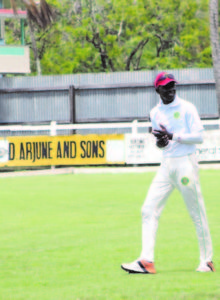 tough," Benjamin recalled.
Asked if at any point in time he had lost hope, Benjamin told this publication that he had lost hope many times, because he had on multiple occasions been promised that he would have a flight home, but those flights had been cancelled due to various reasons. He described that as a tiresome circumstance.
Benjamin, who played for the Guyana Under-19 Team in the last Regional Under-19 tournament, noted that transitioning from playing cricket at the junior level to playing at the senior level has not been the best of experiences for him.
"Every day you learn something new. It's kind of rough, that transition from junior to senior, with not a lot of senior cricket being played at the inter-county level; it's just the franchise. And last year I did not really get a chance to show (my ability) in that.Hopefully, when cricket resumes, I can do something good," Benjamin posited.
Although cricket is not being played locally, Benjamin noted, he is keeping himself fit by attending the gym and doing sprints in the afternoons on the basketball court in his home village of Courtland, Corentyne.
Benjamin is aspiring, within the next two to three years, to see his career achieve great heights; and accordingly, he is putting in the hard work and steeling his determination, because this humble Berbician knows the sky is the limit for him.
Besides Benjamin, Kandasammy Surujnarine and fellow Berbican Demetri Cameron returned home on the same June 19 flight.