Former Guyana Defence Force Chief-of-Staff, Rear Admiral Gary Best has been sworn in to head the latest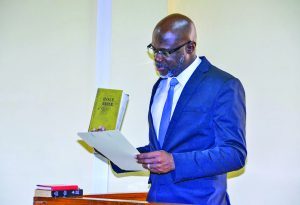 Commission of Inquiry (CoI), this time to probe a mining death.
This comes less than two weeks after 33-year-old miner Keon Wilson was killed after a mining pit collapsed on him at Rock Creek, Mining District Three, Region Seven (Cuyuni-Mazaruni).
Under the orders of President David Granger, the CoI was set up to investigate, examine, probe and report on the circumstances that led to the miner's demise. The Rear Admiral took his oath before Chief Magistrate Ann McLennan at the Georgetown Magistrates' Courts on Tuesday morning, and pledged that he would be impartial while executing his duties.
After being sworn in, Best told media operatives that the CoI was a "step in the right direction" as it could establish blame for the fatal event.
"The Commission of Inquiry is an important step in determining what happened…and to determine blameworthiness, if there is blameworthiness; whether or not the Government will implement those or not, that is for the Government – I trust that they will," the former Army Chief explained.
A preliminary report will be released in two weeks, the public was informed.
Meanwhile, Best was questioned over concerns that only ex-military officers were being chosen to oversee the many CoIs set up. The Rear Admiral noted that while he did not see any difficulty in ex-military personnel or civilians conducting inquiries, he believed that "competence" of the individuals must be taken into consideration.
Over 35 mining deaths have been recorded so far in Guyana over the past two years.