Figures that were thrown around when Public Infrastructure Minister David Patterson reportedly announced a US$4 billion airport to be built in Lethem during a recent Ministerial outreach are being debunked by his counterpart, Minister Dominic Gaskin.
Gaskin, who has responsibility for the business sector, was at the time appearing on a panel discussing "The State of Economy and Business in Guyana", which also featured former Minister within the Finance Ministry, Juan Edghill.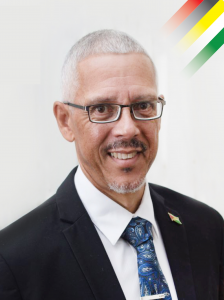 Gaskin appeared surprised at the announcement.
"US$4 billion? No, I think that has to be a mistake. That is obviously an error, US$4 billion for an airport in Lethem. No disrespect to the community of Lethem, but I don't think any responsible Government would spend US$4 billion on an airport in Lethem. It is probably $4 billion Guyana dollars, which is closer to US$20 million.
Gaskin was asked by the host whether the headline and article, which appeared in sections of the State media, were being used to boost the coalition party's chances at General and Regional Elections, constitutionally due by March 19.
"The Chronicle is an organ of the State media and it reports on whatever the Government does. That's just one of the many headlines that would have appeared in the Chronicles over the years."
"I don't know that The Chronicle is part of the campaign, but as a member of the Government, we're always promoting what we do," the Minister added.
Since the passage of a no-confidence vote against the Government in December 2018 which should have triggered the resignation of Cabinet and the calling of early General and Regional Elections, Ministers have ramped up their outreaches to various communities.
It was during one such outreach to Lethem that Patterson reportedly announced the construction of the airport, as well as upgrades to the existing Linden-Lethem road and a 1.5-megawatt solar farm.
The announcement of such a large-scale capital project was reported in Caribbean news outlets. Local political analysts and commentators have also taken note of the frequent travel of Government Ministers to various parts of the country, including the hinterland region.
Outspoken attorney and chartered accountant, Christopher Ram told Guyana Times on Monday that it is clear that the current Administration is utilising State resources to fund their political campaign.
"That is a misuse of public State funds and there is a law on campaign financing – the Representation of the People's Act has provisions on it. The Government is abusing the law and State resources," he added.
In Chapter 1:03 Part XIII of the Act titled "Election Expenses", a limit is placed on personal campaign expenses to GY$25,000 per candidate and a maximum sum of GY$50,000 multiplied by a maximum number of 53 from a total number of 65 candidates for each contesting political party. The Guyana exchange rate in 1990 was GY$45: US$1. It is presently GY$200: US$1.
And according to Section 120 (1) of the amended Act, following elections, political parties' election agents have 35 days in which to submit financial returns to the Chief Elections Officer, disclosing on behalf of candidates and their parties, all payments made by the party's election agent, amounts of personal expenses paid by each candidate, all disputed and unpaid claims, all monies, securities, and those received for the conduct of the elections, the names of donors and contributors, among others.
However, since the enactment of these regulations (Act 24 of 1990) they have neither been observed by contesting political parties nor enforced by the Chief Elections Officer. Ram said, therefore, this could lead to social, political and economic instabilities in society.