Boxing fans will only have to wait just over a month before international amateur boxing action makes its grand 2019 debut.
After a successful 2018, with Guyana winning several Caribbean championships at the various levels, the prospects of Guyana's amateur boxers are bright in the year 2019.
As such, the year's calendar of activities will begin with a bang when the Patrick Forde Memorial tournament is cuffed off on February 17. For the second year running, the tournament will provide Caribbean boxers with the platform to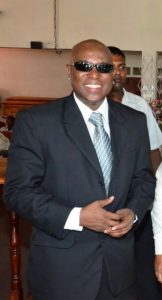 showcase their prowess against opponents from other countries.
Last year's fights featured boxers from Guyana, Suriname and St Lucia. However, this year will see the addition of Trinidad and Tobago, with Guyana Boxing Association (GBA) President Steve Ninvalle looking to include other countries on the card.
As per usual, the punches will be exchanged in the rings at the National Gymnasium on Mandela Avenue with the first bell slated to go off at 19:00h.
The weight classes that will be featured on the night of February 17 are middleweight, lightweight, bantam weight, junior welterweight and light heavyweight. According to the GBA Head, these classes are seen as the key ones for development.
"Those are the divisions that we would have done quite well in at the Caribbean championships, so we're trying to push to make sure that these guys get some much-needed competition leading up to Pan Am," Ninvalle said.
The night is sure to be jam packed with thrills and chills, as the card contains 15 fights. After the dust settled in the boxing rings at last year's inaugural tournament, Colin "Superman" Lewis was hailed as the best boxer overall, whilst Ravin Rodrigues was awarded the best junior boxer title. Chris Moore was adjudged the best youth boxer while Deeron Williams was seen as the best school boy boxer. Alisha Jackman was also recognized as the best female best boxer in the competition.
The Patrick Forde Memorial tournament is a collaborative effort between the GBA and Alford McDonald and comes on the heels of other developmental tournaments such as the Mike Parris Under-16, Andrew Lewis National Novice, Lennox Blackmore National Intermediate and the Terrence Ali National Open.
In addition to this, the GBA is looking to extend its collection of tournaments to include in that honour commonwealth gold medallist Winfield Braithwaite, a Guyanese pugilist who fought his way to the top in the 1978 games in Edmonton, Canada. "We're trying to have a competition in honour of him and what he did for amateur boxing," Ninvalle disclosed.