–secures .8M in funding
Guyana Business Coalition on Health Awareness (GBCHA) Board Chairperson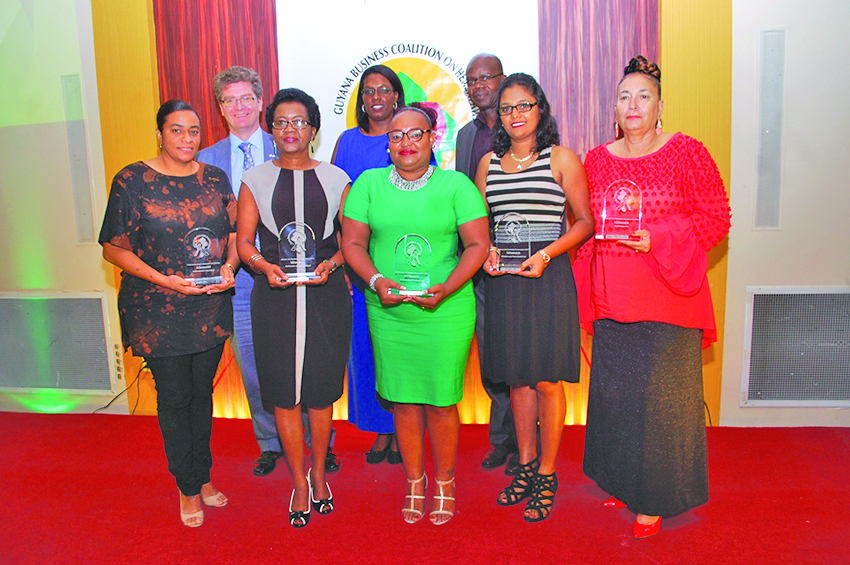 Donna Roberts-Benjamin said the group has secured $7.8 million in funding to strengthen the national response to HIV/AIDS particularly in Region Six (East Berbice-Corentyne).
"This year, the GBCHA was awarded the Global Fund Project for $7.8 million. This project will commence on August 1 and will last for five-and-a-half weeks. The project continues to strengthen the national response to HIV/AIDS in Region Six, Berbice," Roberts-Benjamin said.
She made the announcement at the GBCHA Annual Dinner and Awards Ceremony on Thursday last.
She said the group was recognising individuals and companies that have given outstanding service in improving health and awareness. She added that the GBCHA has continued to meet the needs of its members in keeping with its responsibility to mobilise its partners in response to HIV and non-communicable and chronic diseases as well as health awareness.
Roberts-Benjamin said the GBCHA continued to partner with its members, the Public Health Ministry and both governmental and Non-Governmental Organisations to raise health awareness.
The Pan American Health Organisation/World Health Organisation (PAHO/WHO) Health @ 50 Report disclosed that in the initial stages of the epidemic, AIDS was a reportable condition. Guyana recorded its first case of AIDS in 1987, and AIDS cases have since progressively increased, reaching a peak of 435 in 2001. Thereafter, there was a decrease in the trend until 2015, when WHO made HIV infection a reportable condition and Guyana concurred with the need to report HIV infection.
Looking back on the fight against the virus as Guyana progressed, the country reported on AIDS cases diagnosed mainly in the public health sector. From the beginning of the HIV/AIDS epidemic in Guyana until 2008, when CD4 testing became routinely available, the National AIDS Programme (NAP) used the Caribbean Epidemiology Centre (CAREC) clinical criteria to diagnose AIDS cases.
In May of 2016, it was reported that over 1000 new HIV cases have been recorded in Guyana during the past six years. On average, 85 per cent of all infected persons are on the Government-run treatment programme. After peaking in 2006, HIV/AIDS cases stabilised to approximately 1035 in the last six years (2010-2015).
The GBCHA is an NGO which aims to increase health awareness through coordinated programmes and activities conducted by its members and partners. The organisation was formed in 2008 with HIV/AIDS as its primary target.
At the recent ceremony, the GBCHA thanked its members for their stellar contribution to enhancing the work of the organization.