The Georgetown Chamber of Commerce and Industry (GCCI) on Friday afternoon launched Guyana's first-ever Business Development Forum, which will target the development of all businesses, whether small or large.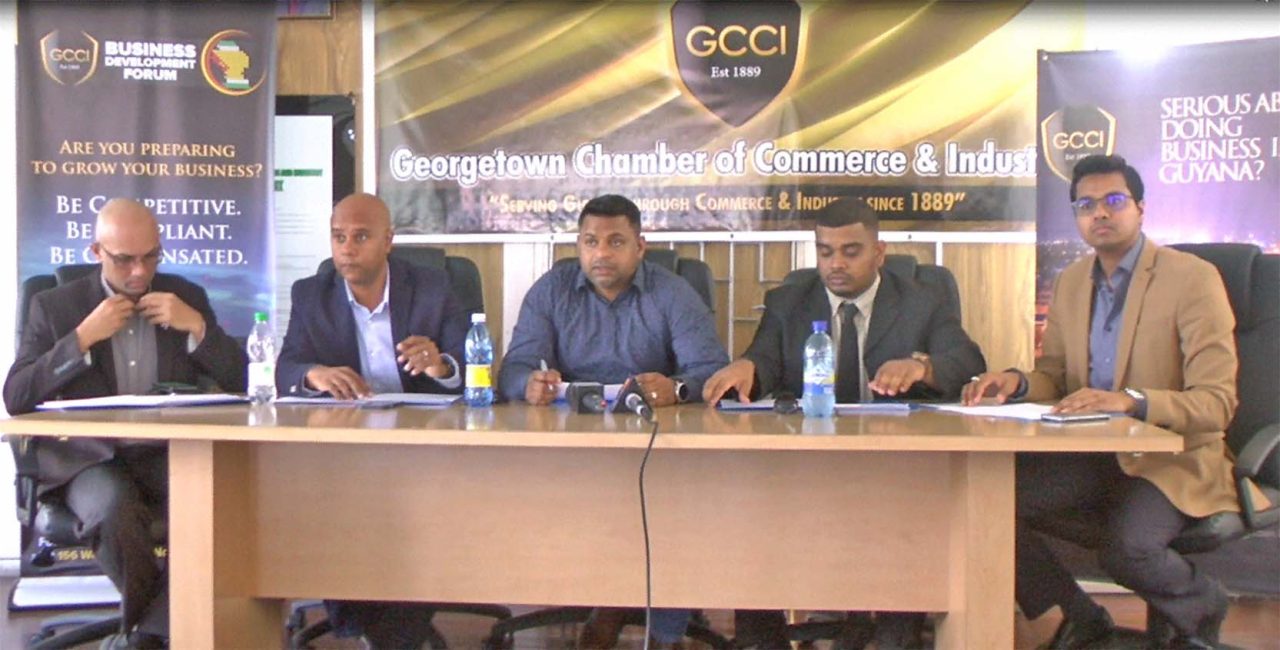 The Forum, which is to be hosted July 20-21 at the Pegasus Hotel, is being spearheaded by GCCI President Deodat Indar; ActionCOACH Guyana Head Vishnu Doerga and Masterclass Institute Head Dr Rosh Khan. It will seek to take businesses in Guyana to another level.
Themed "How to be competitive, compliant and get compensated", the Forum will focus on areas such as access to capital, insurance policies, incentives for investment, export market readiness, donor agency funding, modern marketing tools, registration and compliance.
According to Indar, the Forum is a new platform for business enterprises to evolve their roadmap to success.
It will be targeting businesses that are ready to grow in their scale of operations and will provide relevant information for each category of business with ample opportunities for questions to be posed to the conducting experts.
"I'm very happy that this event is taking place under the leadership of the current council, and we look forward for it to be something that is reputable, it's sizable and can make the impact that we designed for it," Indar noted.
Former GCCI President Doerga, who would be making a presentation during the Forum, said that he would be focusing on those businesses that were seeking to expand their markets.
"In our segment, we will be focusing on the medium-size businesses, more specifically how to systemise your business operations and how to set them up in such a way for them to be able to scale up and to serve many more clients, to extend beyond the borders of Guyana," the ActionCOACH informed.
Dr Khan called the Forum a timely and relevant one. He said: "This initiative is not just an important one; I think that it is very relevant and very timely. I believe that we are on the verge of economic transformation, as we had a few announcements the other day from ExxonMobil and we've had a few agreements signed for potential trade investments, and I think it's time for small businesses to really get their houses in order, to really leverage these opportunities."
The Forum is being hosted in partnership with the Guyana Revenue Authority (GRA); Nations University; Arthur Lok Jack Global School of Business; Republic Bank Guyana Limited and the Inter-American Development Bank (IDB).
A fee of $20,000 is attached to the two-day event.
The GCCI continues to lead the charge for improving the economic climate and quality of life in Guyana through policies that stimulate investment and expand economic opportunities for its members.