$484M supplemental paper
– aircraft grounded, disassembled as checks carried out
Earlier this year, Government sought $484.2 million in supplemental financing to acquire four aircraft, including two Islanders. At least two of the aircraft are here, but have been grounded since checks by engineers are being carried out.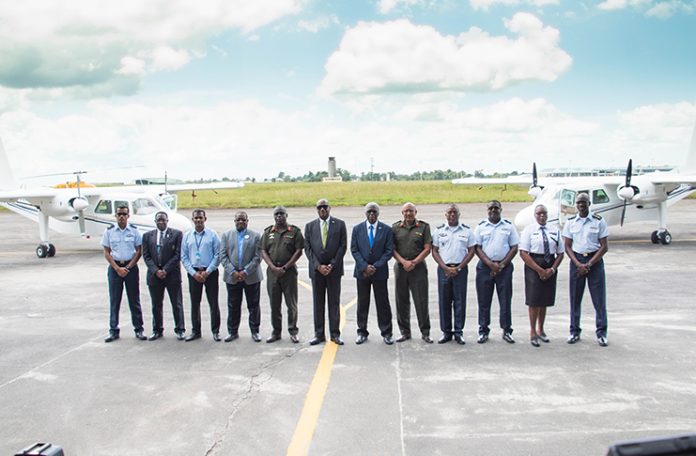 This is according to Minister of State Joseph Harmon during a post-Cabinet press briefing on Friday. The Minister explained that a 'C' check or maintenance check is being carried out. This entails the aircraft being disassembled and individual components checked.
"I think what has happened is that since we bought them, the engineers' at the Air Corps decided to do what is known as a 'C' check, which is basically to take the entire aircraft apart and check every part of it. So they've done that and in fact are still doing that," Harmon explained. "I think in a short period of time we will be up and flying with those aircraft."
"Checks were done before the aircraft were purchased, but they were not 'C' checks. And these 'C' checks are much more thorough checks that you do once every five years or as the case might be. This is what has actually delayed the actually putting to service these aircraft."
According to Harmon, safety is a major concern for the Government. He noted their care to make sure nothing goes wrong when soldiers or even Ministers of Government are travelling in these aircraft. Besides these aircraft, Harmon revealed that two Skyvans are to be delivered by next year.
The supplemental funds for the aircraft were sought on the Guyana Defence Force's (GDF) behalf in the National Assembly back in May of this year. At the time, Harmon was asked by Opposition parliamentarian and former Home Affairs Minister Clement Rohee about the manufacturing date of the aircraft.
"These are not new aircraft. They are aircraft that have been in service and are being purchased by the company that owns them. The two Skyvans were manufactured in 1977 and the two Islanders in 1976. The Islanders were (used to transport) passengers and cargo while the Skyvans were for paratrooping," Harmon had said.
Under further questioning from Opposition Chief Whip Gail Teixeira, Harmon had assured that the planes were issued with air worthiness certificates from Brazilian and European Aviation officials. According to the Minister, they will be further examined before Guyana even uses them.
It was Harmon himself who commissioned the Islanders in August when they arrived. At the time of the commissioning, Commanding Officer of the Air Corps Commander Courtney Burns had laid out his expectations for how the aircraft would be used.
For instance, he had said the aircraft would be used for search and rescue as required; air borne and air mobile operations; casualty evacuations; day and night medical evacuation; air transport for troops; as a platform for tactical operation; surveillance through the country including the Exclusive Economic Zone and disaster relief operations.
He had also listed the use of the aircraft for replenishing supplies for those deployed, provide support for Government programmes, conduct trainings, conduct anti-piracy, anti-illegal mining, logging and fishing activities, support civil powers and the Police, provide internal support operations, conduct counter narcotic operations and cross border operations.
Before these aircraft were procured, it is understood that the GDF air corps had two Bell helicopters, one of which was out of commission. It also had two Skyvan 8R-GRR models, a Cessna and a Harbin aircraft.