Vishnu Persaud, who was selected as the new Chief Elections Officer of the Guyana Elections Commission (GECOM), will be sworn in today before Chief Justice Roxane George.
Persaud was one of over 15 persons who had applied for the position in October. He and former Jamaican electoral official Leslie Harrow were shortlisted and interviewed two Mondays ago by the seven-member Election Commission.
When the Commission met on Friday last to discuss and vote on who is the most qualified candidate for the job, its members were trapped in a deadlock as they were equally divided between the two frontrunners.
This prompted GECOM's Chairperson, Retired Justice Claudette Singh, to flex her casting vote in favour of Persaud, whom she has since hailed as the most qualified for the job.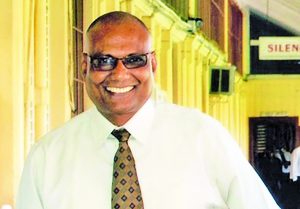 In an official statement to the media announcing the selection of Persaud as the new CEO, GECOM said it is hopeful that with his extensive experience in the agency, Persaud will execute the functions of the office of CEO and Commissioner of Registration within the confines of the law and deliver with excellence.
"Mr Persaud is knowledgeable not only with the understanding and management of the work of the CEO's office and the operational functions of the Secretariat but also with the geography of Guyana's ten administrative regions," the statement explained.
Also contributing to her decision to select Persaud for the post was an endorsement letter submitted by former GECOM Chair, Dr Steve Surujbally.
During his tenure at the Commission, Persaud held the post of Public Relations Officer, Deputy Chief Elections Officer for three years, and acted as Chief Elections Officer on several occasions.
Against this backdrop, Justice Singh noted that she had no hesitation in endorsing Persaud's appointment since "he has the necessary skills, experience, and expertise that makes him eminently qualified to handle the job".
Persaud, who was employed as GECOM's Deputy CEO from 2014 to 2017, was overlooked for the appointment when he sought to return to the position in 2018.
In fact, his non-appointment sparked controversy and even an investigation by the Ethnic Relations Commission (ERC), which had concluded six months after that he was overlooked and was more qualified than the person who was chosen over him for the position, Roxanne Myers.
The then CEO Keith Lowenfield; his Deputy, Roxanne Myers, and Region Four (Demerara-Mahaica) Returning Officer Clairmont Mingo were fired from GECOM in August.
The embattled trio is currently before the courts facing a number of electoral fraud charges for their alleged attempts to sway the results of the March 2020 General and Regional Elections in favour of the then ruling A Partnership for National Unity/Alliance For Change (APNU/AFC) Government.