Chairman of the Guyana Elections Commission (GECOM), retired Justice James Patterson has been hospitalised and placed in the Intensive Care Unit (ICU) of a private city hospital.
Sources confirmed on Friday that Patterson was admitted to a city hospital where he was immediately sent to the ICU. He was reportedly diagnosed with prostate cancer.
The 84-year-old retired Justice was appointed as the GECOM Chairman by President David Granger in October 2017.
Following his appointment, PPP's Executive Secretary, Zulfikar Mustapha filed a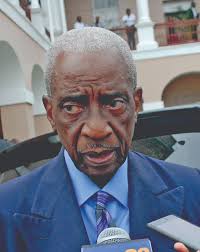 legal challenge since the appointed was considered unilateral.
However, after several months of submissions in the High Court, the Chief Justice (ag) Roxane George on June 8, 2018, ruled that the Constitution of Guyana allows for the President to unilaterally appoint someone to fill the position of GECOM chair.
Apart from asking that the appointment of Patterson be rescinded, the PPP had argued that he was unqualified for the post, and had petitioned the court to order the President to choose a person from the 18 names submitted by Opposition Leader, Bharrat Jagdeo prior to his appointment.
However, the Chief Justice, in her ruling, stated that there was nothing before the court to support a finding that the President had acted unlawfully or irrationally in resorting to the proviso to Art 161(2); and there was nothing to rebut the presumption that Justice Patterson is qualified to be appointed to the post of Chairman of GECOM.
According to the Chief Justice, the Opposition did not produce evidence to support the contention that Patterson was unqualified for the position.
She added that even if she had agreed with the contention that the appointment was unlawful, it would not have been "permissible for this court to usurp the function of the President by directing him to choose a nominee from the third, or any, list."
However, she did outline in her ruling that the President should have given reasons for his rejection of the 18 nominees submitted by Opposition Leader Bharrat Jagdeo in three separate lists, all of whom were rejected.
Attorney-at-law, Anil Nandlall on behalf of his client appealed the decision stating that the learned Chief Justice misconstrued and misinterpreted the role of the Leader of the Opposition in Article 161 (2) of the Constitution of the Cooperative Republic of Guyana and as such, was asking the court to overturn the High Court ruling.
However, the Court of Appeal upheld the Chief Justice's ruling. The PPP has since appealed that decision in the Caribbean Court of Justice (CCJ).