President David Granger, this morning, told reporters that he has never acted outside of the Constitution and maintains that his unilateral appointment of retired Justice James Patterson to the post of Chairman of the Guyana Elections Commission (GECOM) is not flawed.
The President's comment came after the Caribbean Court of Justice (CCJ), on Monday, ruled that he acted outside of the Constitution when Patterson was unilaterally and the process used was "flawed".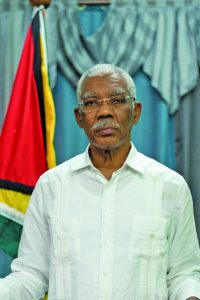 "I have never gone outside of the Constitution. If they (the CCJ) tell me the process is flawed, they must let me know what the flaw is…there's no way I can see the decisions I've taken were flawed," the President said.
More details in the Thursday, June 20, 2019 edition of the Guyana Times.