An East Bank Demerara (EBD) resident was on Sunday arrested after he reportedly robbed three enumerators attached to the Guyana Elections Commission (GECOM) of their belongings while they were conducting House-to-House Registration.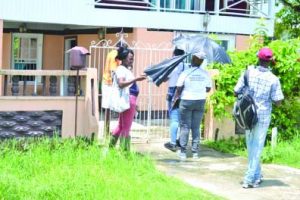 This was confirmed by Public Relations Officer (PRO) of the elections entity, Yolanda Ward on Monday when contacted.
Based on reports received, the three workers were performing their duties in Covent Garden, EBD, when they were confronted by the knife-wielding man, who took away their personal items.
After committing the act, the three victims raised an alarm thus resulting in residents giving chase. The man was eventually caught and beaten by the residents. The stolen items were retrieved in his possession.
However, the man managed to escape during the beating but his identity was made available to the police, who apprehended him. He is expected to make his appearance at the Providence Magistrate's Court, charged with armed robbery.
This incident came days after GECOM requested Police protection for its field staff. The Commission has requested the Guyana Police Force to provide surveillance in communities and to assist with the security of the field staff.
The controversial House-to-House Registration began on July 20 and is the subject of a legal battle before Chief Justice Roxane George.