– Codogan upstages Collins' 100m bid
By Michelangelo Jacobus
Records tumbled on Saturday at the National Track and Field Facility in Leonora as more than 15 international Olympians took to the field in the Alian Pompey Invitational meet.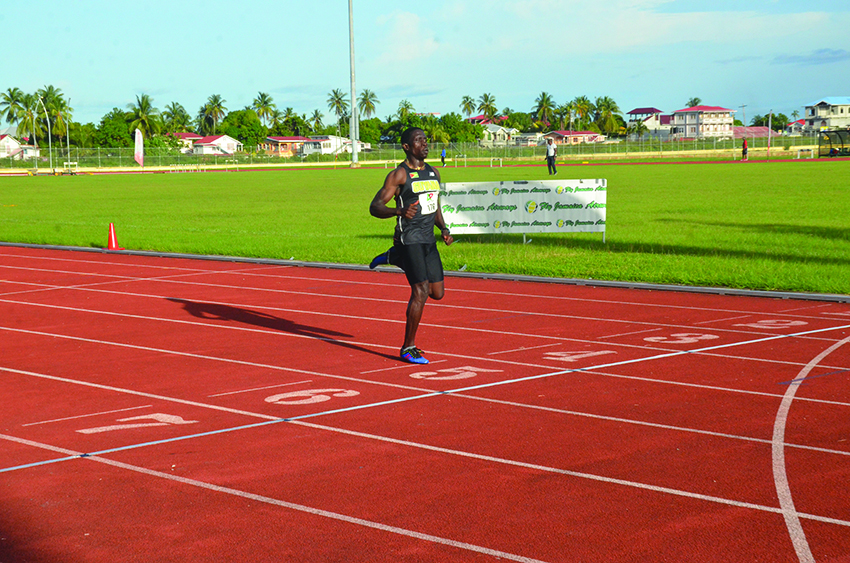 A pre-race favourite for the Men's 100 Metres Final, Kim Collins was upstaged by a late surge from Barbadian Levi Codogan, who consigned the former world champion to second place and erased the previous Meet record.
The race started at a frantic pace, and by the 50-metre mark all the athletes were neck-and-neck. Coming down on the back stretch, it was clear that the end would be a photo finish, as Collins, Codogan, Trinidadian Emmanuel Callender and Antiguan Tahir Walsh were all breathing down each other's necks.
When the results were announced, the Barbadian Codogan had done just enough in 10.24s to hold off Collins, who was second in 10.28s, while Antigua's Walsh finished third in 10.29s.
Codogan's late surge meant that he eclipsed the Meet's previous 100 metre record of 10.25 by a mere tenth of a second.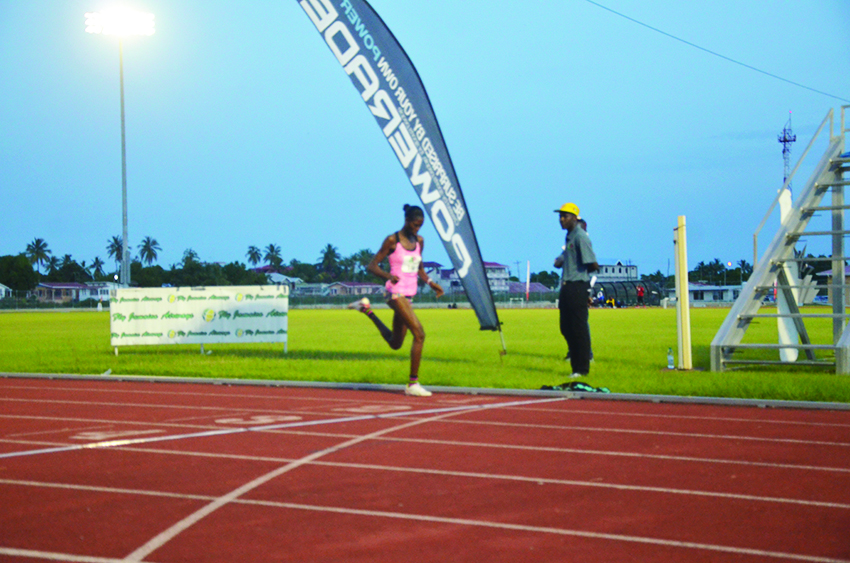 In the women's race, it was all about the foreign athletes, as Trinidad's Semoy Hackett convincingly beat Tawanna Meadows of the USA to claim gold.
Hackett finished first in a time of 11.16s, while Meadows took silver in 11.33s, and another Trinidadian athlete, Reyare Thomas, copped bronze in 11.34s.
Guyana's Olympian Winston George, who has already qualified for the World Championships in London, proved why he's currently Guyana's best senior athlete when he took gold in a dominant 400-metre race.
George also set a new meet record when he ran a time of 45.41s to take gold ahead of fellow Guyanese athlete Stephan James, who finished second in 46.98s to win silver, while Jamaica's Jonia McDonald took bronze in 47.27s.
The Meet started earlier in the afternoon with a new record being set in the Women's 400m Hurdles, when Jamaican Roshell Clayton copped gold in 56.83s, while Puerto Rican Grace Claxton claimed silver in 57.28 seconds, and Katrina Seymour of the Bahamas took bronze in 58.51s.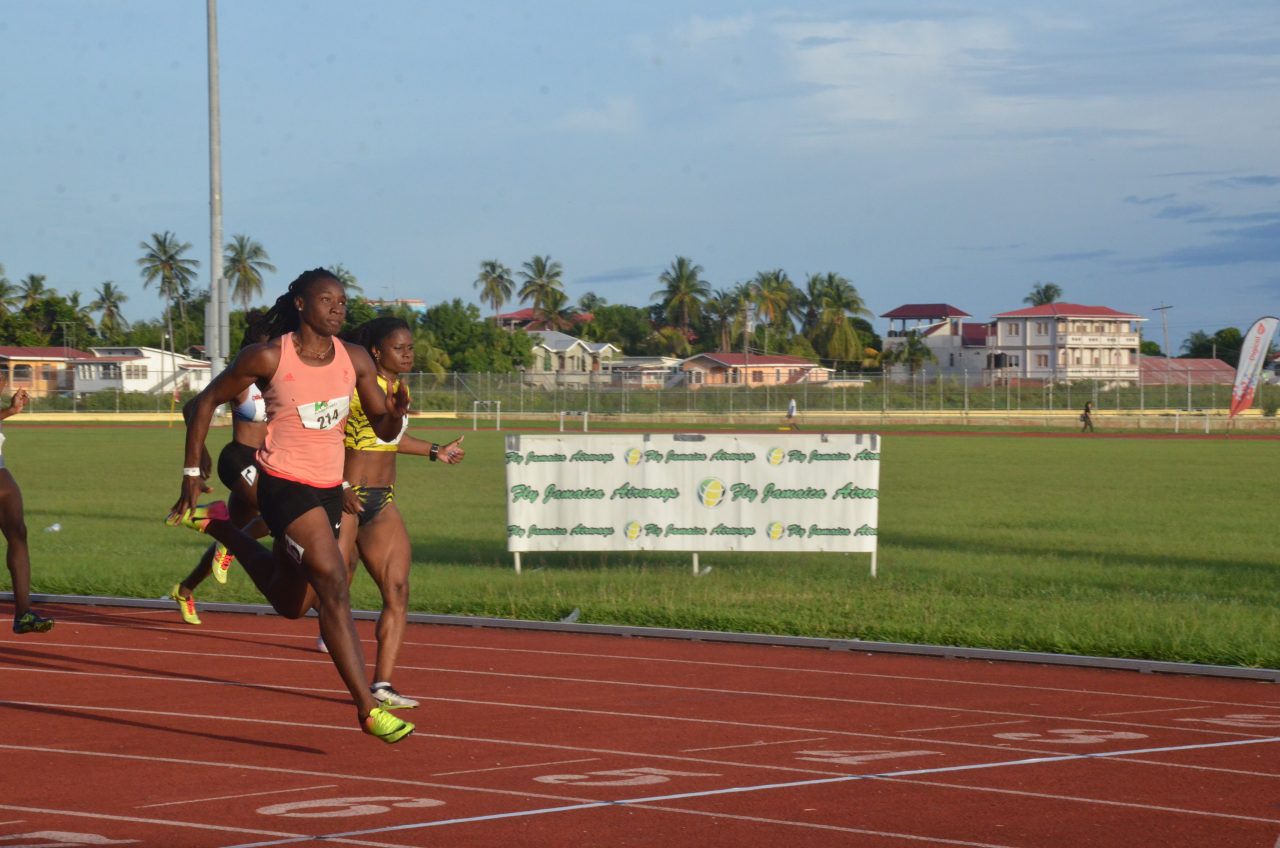 Another record was set in the Men's 400m Hurdles by Keon Joseph of Barbados, who won gold in a time of 50.34s, with Jamaican Romel Lewis coming in a close second in 50.74s, while Kem Alesie of Trinidad and Tobago was third in 51.47s.
Winston Missigher continued his dominance of the distance events when he once again beat local rivals Cleveland Thomas and Calvin Thomas in the Men's 3000m race. Missigher finished the event in a time of 9:12.67s to claim gold, while Thomas (9:14.59s) took silver and Colin Thomas finishing third in 10:46.7s to cop the bronze.
In the Female 400m final, Ashley Kelly of the British Virgin Islands had a powerful run on her way to gold, and finished in a time of 51.92s, while her closest challenger, Roshell Clayton (Jamaica), won silver in 52.55s and her compatriot Dominique Blake finished third in 52.71s.
Guyana's Joanna Archer produced arguably one of her best 800-Metre performances to take gold miles ahead of Bahamian Katrina Seymour and US Virgin Islands' Mikaela Smith.
Archer finished in a time of 2:17.03s, while Seymour recorded 2:30.38s, and Smith 2:37.24s.
South American U-20 medallist Samuel Lynch continued his good form by finishing in second behind UVI's Malique Smith.
Smith won the event in 1:51.90s, while Lynch finished second in 1:53.25s, and fellow Guyanese Quincy Morian copped bronze in a time of 1:54.79s.
Winston George stormed to victory in the Men's 200m Final in a record-breaking time of 20.41s, ahead of Trinidadian Emmanuel Callender, who had a time of 20.77s, and Barbadian Nicholas Desborg, who clocked 21.23s. In the process, George took his second gold of the day.
Trinidadian Semoy Hackett completed the sprint double when she sprinted her way to the Women's 200m gold in a time of 22.79s, with her country-woman Reyare Thomas taking silver in 23.45s, and jade Bailey (Barbados) bronze in 23.49s.
Guyana's national men's Javelin champion Leslain Baird copped gold in that event when he outthrew his competitors by some distance. Baird recorded a best distance of 70.41m, while second-placed Kleon Spellin had a distance of 55.45m and Tremaine Beckles with a throw of 55.30m came in third.
A total of well over $3 million dollars was given away as prizes at the Invitational meet. Among the sponsors were Fly Jamaica Airways, the Guyana Olympic Association, Hits and Jams, Banks DIH and Star Party Rentals.